CQ NAB!
A highlight and tradition for many of us attending the NABShow is the Amateur Radio Operators Reception. I started in ham radio in 1975 (WN6BFL) and attended my first NABShow Ham Reception in 1986. Like past years, the Ham Reception will be held on Wednesday evening (April 26) beginning at 6 p.m. in Ballroom B of the Westgate Las Vegas Resort. The Reception is free­ of ­charge and open to all badge-wearing attendees of the 2016 NAB Show. Think about bringing a badge with your callsign on it this year.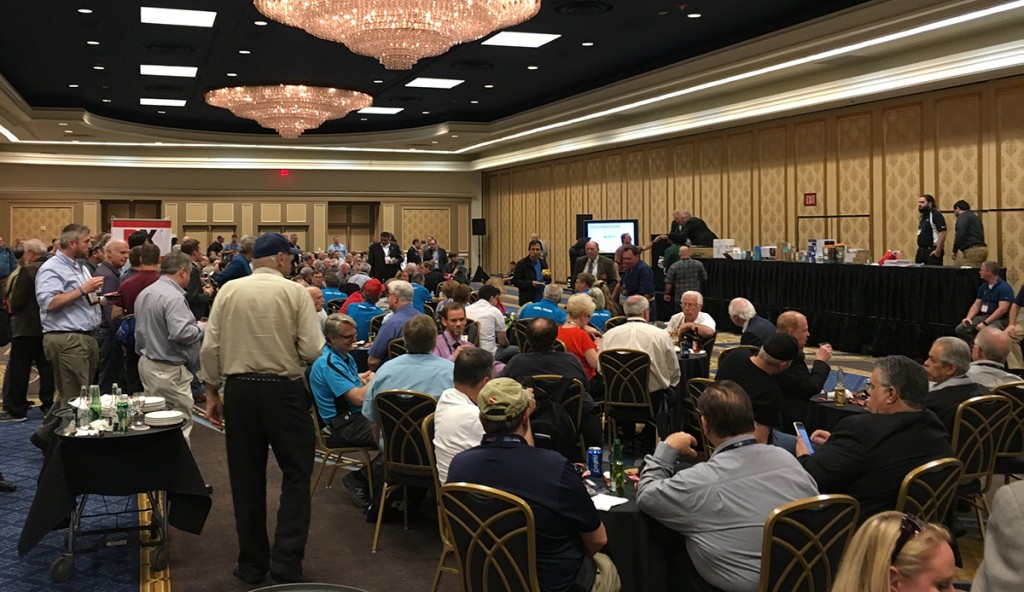 The HAM reception is again being co­sponsored by Broadcast Supply Worldwide, DX Engineering and Turner Engineering. Join fellow amateur radio operators from around the world for food, drinks, and fellowship, plus a chance to win some fantastic prizes.
This year, our generous donors have contributed almost $12,000 in prizes. They include:
Wheatstone M1 Microphone Processor
Kenwood TH-F6A Tri-band HT
Icom FC-T70A Dual-band HT
3CX1500A7 Tube
Amazon Echo
See the full list of prizes below.
Every attendee is eligible to win a door prize, and will receive a raffle ticket upon entry. Unlike the odds in Vegas casinos, your odds of winning at the reception are pretty good. This year, we've received over 125 prizes. We'd like to thank all of our donors for their generous contributions, and encourage anyone who would like to become a part of this tradition to contact Sharon Devine.
73,
Bob Weller, N6NE
2017 Amateur Radio Operators Reception
| Prize | Donated by |
| --- | --- |
| $50 Honey Baked Ham gift certificate | Advanced Television Systems Committee (2) |
| C2 W/VHF Element, CJMount, 30FT RG6 | Antennas Direct |
| ARRL Prize Certificate | ARRL (3) |
| ARRL Prize Certificate | ARRL (3) |
| Book: High Speed Multimedia for Amateur Radio | ARRL (6) |
| Book: ARRL Operating Manual for Radio Amateurs 11th edition | ARRL (5) |
| Book: Portable Antenna Classics | ARRL (5) |
| Book: Extra Class License Manual for Ham Radio | ARRL (2) |
| Book: Ham Radio License Manual | ARRL (2) |
| Book: General Class License Manual | ARRL (2) |
| Book: 2017 ARRL Handbook for Radio Communications | ARRL (5) |
| Book:  The Antenna Book for Radio Communications 23rd edition | ARRL (5) |
| Certificate for 100 foot Belden cable – your choice | Belden (10) |
| Certificate for 34" x 44" HAM contact locator map | BIA/Kelsey |
| CCRadio 2E Enhanced AM/FM/WX 2-Meter Ham Band Radio (Black Mica) | C. Crane Company Inc. |
| CC Vector Home WiFi Repeater System | C. Crane Company Inc. (Robert Crane) |
| CCRadio  World (Black Mica) | C. Crane Company Inc. (Robert Crane) |
| Yaesu FT-65R Dual Band Transceiver | Cavell, Mertz & Associates, Inc. |
| Yaesu FT-60R  Dual Band Transceiver | Cavell, Mertz & Associates, Inc. |
| Icom IC-V80-HD | Cavell, Mertz & Associates, Inc. |
| Yaesu FT-270R | Cavell, Mertz & Associates, Inc. |
| Kenwood TH-K20A | Cavell, Mertz & Associates, Inc. |
| Icom IC-T70A-HD-15 | Cavell, Mertz & Associates, Inc. |
| Alinco DJ-500T | Cavell, Mertz & Associates, Inc. |
| Kenwood TH-F6A | Cavell, Mertz & Associates, Inc. |
| Car Connect HD Radio tuner (Directed Electronics) | CBS Radio Inc. (20) |
| Amex gift certificate | CBS Broadcasting |
| Amazon Echo | CTA (2) |
| CPE/EIMAC 8877/3CX1500A7 Triode Tubes | Eimac/CPI (2) |
| MFJ-259C MW/HF/VHF Two-port graphic antenna analyzer | GatesAir |
| Tytera Model MD-390/GPS UHF digital mobile radio handheld transceiver | Hammett & Edison (2) |
| AmEx gift card | Henry Engineering (2) |
| Amex gift card | Henry Engineering (4) |
| Icom R6 communications receiver 100 kHz-1309.995 MHz | Icom America (2) |
| Gift bag containing – luggage tag, t-shirt, umbrella, portable charger, refrigerator magnet and pen | IEEE BTS |
| Heil Sound Ltd.- large diameter dynamic microphone | Nautel |
| Radio World t-shirt LARGE | NewBay Media, LLC (5) |
| Radio World t-shirt MEDIUM | NewBay Media, LLC (5) |
| Yaesu VHF/UHF dual-band FM transceiver | Roam Consulting |
| Gift certificate toward any book in SBE bookstore | SBE |
| Gift certificate for one SBE webinar | SBE  (2) |
| Book: Communications Receivers, 4th edition | Technical Press (2) |
| Baofeng portable 2-way radio – dual band, dual display and standby | Telos/Omnia (5) |
| Two rolls of Rapid-Tite silicone w eather sealing tape | Times Microwave Systems |
| One Times-Protect lightning protector-Model LP-BTR50NFF | Times Microwave Systems |
| One Times-Protect lightning protector- Model LP-GTRNFF | Times Microwave Systems |
| 100 feet of LMR-240 low-loss coaxial cable | Times Microwave Systems |
| 100 feet of LMR-400 | Times Microwave Systems |
| M1 digital microphone processor | Wheatstone |
| Smart Phone Tablet 64 Keys Android/iOS/Windows | NAB |