The Amateur Radio Operators Reception, affectionately known as the HAM Reception, will be held on Wednesday, April 11 at 6 p.m. in Ballroom B of the Westgate Las Vegas Resort. The Reception is free­ of ­charge and open to all attendees of the 2018 NAB Show.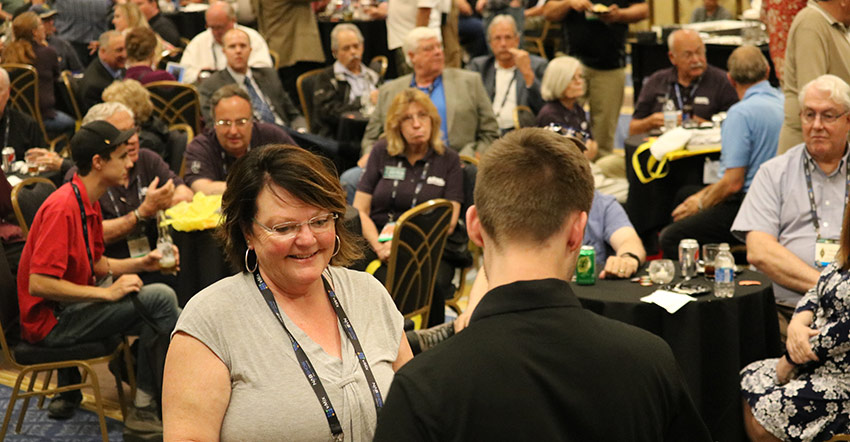 The HAM reception is co­sponsored by Broadcast Supply Worldwide and Turner Engineering. Each year, it brings together amateur radio operators from around the world to enjoy the fellowship of the HAM community, and for the chance to win fantastic prizes.
This year, our generous donors have contributed over $13,000 in prizes. They include:
Wheatstone M1 microphone processor
Apple 4k TV
Amazon Echo Dot
Lots of books from ARRL
Every attendee is eligible to win a door prize, and will receive a raffle ticket upon entry. We'd like to thank all of our donors for their generous contributions, and encourage anyone who would like to become a part of this tradition to contact Sharon Devine.
2018 Amateur Radio Operators Reception
| Prize | Donated by |
| --- | --- |
| Honey Baked Ham gift certificate | Advanced Television Systems Committee |
| ARRL Extra Class License Manual – spiral | ARRL (2) |
| ARRL General Class License Manual – spiral | ARRL (2) |
| ARRL Ham Radio License Manual – spiral | ARRL (2) |
| ARRL Prize Certificate – $25 (redeemable for any ARRL publications) | ARRL (3) |
| ARRL Prize Certificate – $50 (redeemable for any ARRL publications) | ARRL (3) |
| ARRL Operating Manual | ARRL (5) |
| Grounding and Bonding for the Radio Amateur | ARRL (5) |
| Receiving Antennas for the Radio Amateur | ARRL (5) |
| ARRL Antenna Book | ARRL (5) |
| ARRL Handbook – 2018 edition | ARRL (5) |
| 100Ft of Belden Cable gift certificates | Belden (Steve Lampen) (10) |
| Certificate for 34" x 44" HAM contact locator map | BIA/Kelsey (Mark Fratrik) |
| Super USB WiFi Anenna3 w Repeater System | C. Crane Company Inc. (Robert Crane) |
| Skywave SSB | C. Crane Company Inc. (Robert Crane) |
| Yaesu FT-60R Dual Band FM Transceiver | Cavell, Mertz & Associates, Inc. |
| Yaesu Dual Band Heavey Duty Submersible Transceiver | Cavell, Mertz & Associates, Inc. |
| Kenwood TH-K20A Transceiver | Cavell, Mertz & Associates, Inc. (2) |
| Yaesu FT-25R/E Sender/transceptor | Cavell, Mertz & Associates, Inc. (3) |
| Yaesu FT-65R Dual Band Transceiver | Cavell, Mertz & Associates, Inc. (2) |
| Apple 4K-TV 32GB-Model MQD22LL/A | CTA (Dave Wilson) (2) |
| Gift certificate of 4 lobsters from Maine | Dielectric |
| Amazon Echo | Durst Organization (John Lyons) |
| 4 3CX800A7 triode tubes | Eimac/CPI (4) |
| MFJ-259C MW/HF/VHF Antenna Analyzer | GatesAir |
| IC-R6 Communications Receivers | ICOM (Ray Novak) (2) |
| Bluetooth keyboard | IEEE BTS |
| Fitbit Charge 2 | IEEE BTS |
| Model LV10-20 variable inductor | Kintronics (Tom King) |
| 100 feet LMR 600 P1259 | MPD Digital |
| ICOM VHF/UHF Dual Band FM Transceiver and ICOM soft carry case | Nautel (Gary Liebisch) |
| Radio World T-shirts (X-Large) | NewBay Media, LLC (Paul J McLane) (8) |
| FT-65R Yaesu 2 meter/70cm Dual Band FM Handheld Transceiver | Roam Consulting (Pete Putman) |
| SBE Shirt – 3X w logo | SBE |
| SBE Shirt – large w Logo | SBE |
| Echo Dot | Telos/Omnia (Frank Foti) (6) |
| 100 Ft of LMR-240 Low Loss Coaxial Cable | Times Microwave Systems |
| Two Rolls of Rapid-Tite Silicone Weather Sealing Tape | Times Microwave Systems |
| One Times-Protect Lightning Protector Model LP-BTR50NFF | Times Microwave Systems |
| One Times-Protect Lightning Protector Model LP-GTRNFF | Times Microwave Systems |
| 100 Ft. of LMR-400 | Times Microwave Systems |
| M1 Microphone Processor | Wheatstone |
| Audiovox: Table Top Radio/Alarm Clock featuring HD Radio technology | Xperi (Lisa Ballesteros) |