Technical paper proposals are now being accepted for the Broadcast Engineering and Information Technology (BEIT) Conference at the 2020 NAB Show, to be held April 18-22 in Las Vegas, Nev. The NAB Show is the world's largest convention encompassing the convergence of media, entertainment and technology, and the BEIT Conference is the Show's largest and longest-running conference track.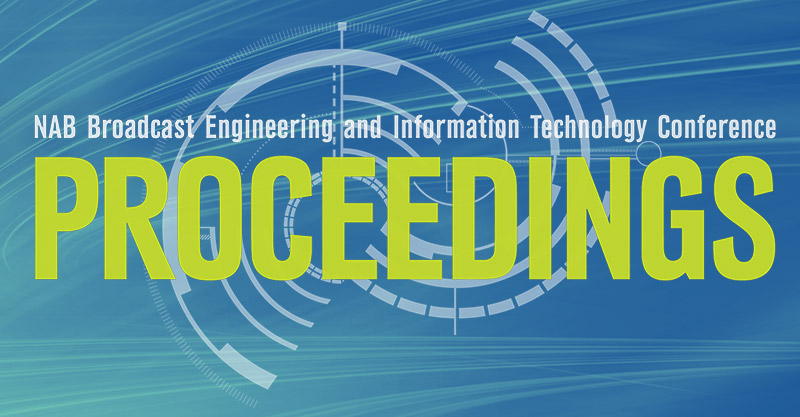 The BEIT Conference is designed for broadcast engineers and technicians, contract engineers, broadcast equipment manufacturers, distributors, engineering consultants, R&D engineers, IT professionals and related media technologists. The conference features technical papers addressing the latest opportunities and challenges facing broadcast engineering and media-industry IT professionals around the world.
The Conference seeks presenters with fresh ideas and unique perspectives on key trends and technologies driving the future of radio, television and general media-technology topics. A list of the topics suggested for inclusion in the 2020 BEIT Conference program is available on the Call for Papers page at nabshow.com.
Although written papers accompanying BEIT Conference presentations are not required, they are strongly encouraged, and are included in the Proceedings of the 2020 Broadcast Engineering and IT Conference, which will be available at the NAB Store during the 2020 NAB Show and online at www.nabstore.com thereafter.
BEIT Conference papers will be presented in either of two session formats: 1) Sequential, timed, on-stage presentations (called "Paper Presentations"), with visual aids projected on a large screen before a seated audience, followed by Q&A; or 2) Electronic poster sessions (called "ENGAGE! Presentations"), in which attendees gather around the presenter, who speaks directly to them at greater length, with visual aids presented on an LCD screen immediately adjacent to the presenter.
Paper Presentations are allotted 25 minutes, and will be presented by a single author. ENGAGE! Presentations are allotted 80 minutes, with multiple presenters acceptable. (Up to five ENGAGE! Presentations take place simultaneously during these 80-minute sessions in the Conference's electronic poster session room, allowing attendees to move between presenters and sample each presentation during the session.)
All BEIT Conference paper proposals are subject to peer review by a select program committee of top-tier broadcast engineers from across the U.S. Proposals featuring original research or highly regarded speakers receive the most favorable consideration. All content proposed must be presented in a tutorial, non-promotional form. Proposals overtly promoting company products or services will not be accepted, although proposals explaining the underlying technologies used in commercial broadcast products or services may be considered.
The deadline for paper proposals to be received by NAB is November 1, 2019. All proposals must be submitted online via the link below. Papers selected for the 2020 BEIT Conference program will be announced in January 2020. Visit the NAB Show website for more information and to submit a proposal.