With its local broadcasting partners, the AWARN Alliance is convening a series of roundtable discussions between local TV stations and local emergency managers – the people who issue emergency alerts. The goal is to lay the groundwork for the voluntary use of NEXTGEN TV Advanced Emergency Information (AEI) and "reboot" the historic relationship between broadcasting and public safety.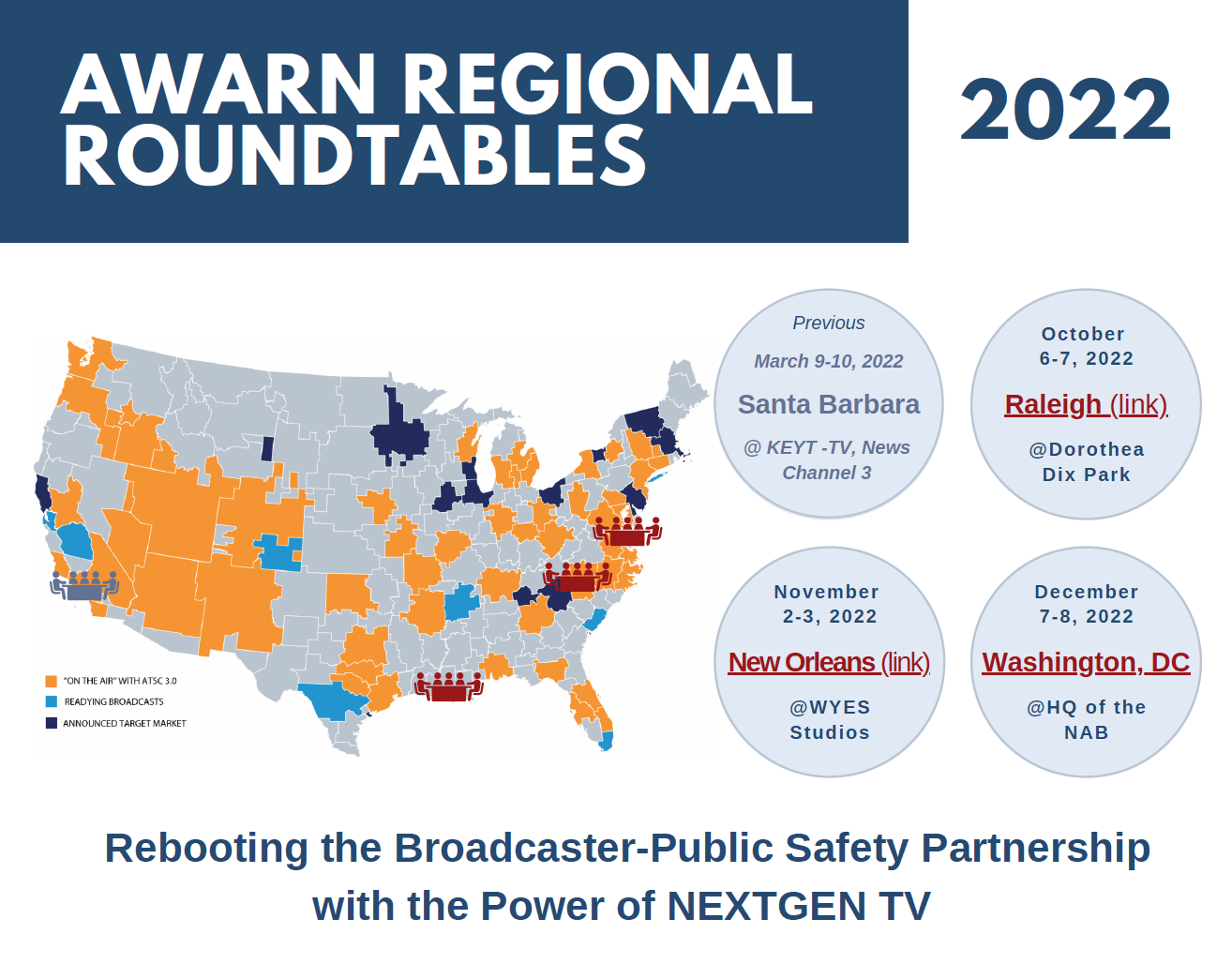 The next AWARN Roundtable is in Raleigh and covers parts of two days, October 6-7. It's co-hosted by Capitol Broadcasting's WRAL, PBS North Carolina, the North Carolina Association of Broadcasters and the North Carolina Department of Public Safety.
The AWARN New Orleans Roundtable is November 2-3. WYES, the Louisiana Broadcasters Association and state and local emergency management agencies are co-hosting, with support from the state broadcaster associations in Texas, Mississippi and Alabama.
With co-hosts ONE Media 3.0/Sinclair Broadcast Group and the Maryland, D.C. and Delaware Broadcasters Association, NAB is hosting the Washington, D.C., Roundtable on December 7-8 in our offices.
Sponsors to date include The Weather Company, an IBM Business, LG Electronics, ATSC, Capitol Broadcasting, PBSNC, NCAB, NAB and ONE Media 3.0. Additional sponsors are welcomed.
The first AWARN Roundtable was hosted by News-Press & Gazette's KYET-TV last March and drew a cross-section of emergency managers and broadcasters from across Southern California. The California Broadcasters Association played a leading role, with additional sponsorship from ATSC, Baron and T-NET Japan. The meeting led to rave reviews from participants and provided a template for the events this fall.
We encourage NAB members to participate in these discussions and network with your local public safety counterparts. AWARN activities have always drawn the interest and support of engineers, but the broadcast TV-public safety relationship is about the C-suite and news directors, too. It's a great opportunity to reinforce broadcasters' first informer status.
For additional information about the roundtables and to register for individual events, please visit AWARN.org. Contact AWARN Executive Director John Lawson at jlawson@AWARN.org about sponsorship opportunities or for more information.