NAB Show in Las Vegas featured a massive display of progress as it relates to the development and planned deployment of Next Gen TV using the ATSC 3.0 standard. The official ATSC booth was titled "The Road To ATSC 3.0" and featured a rack of equipment that was being used to deliver a four node single frequency network (SFN) throughout North Hall and the main concourse. The capabilities of this network were showcased at three demonstration areas highlighting the mobile functionality of the standard.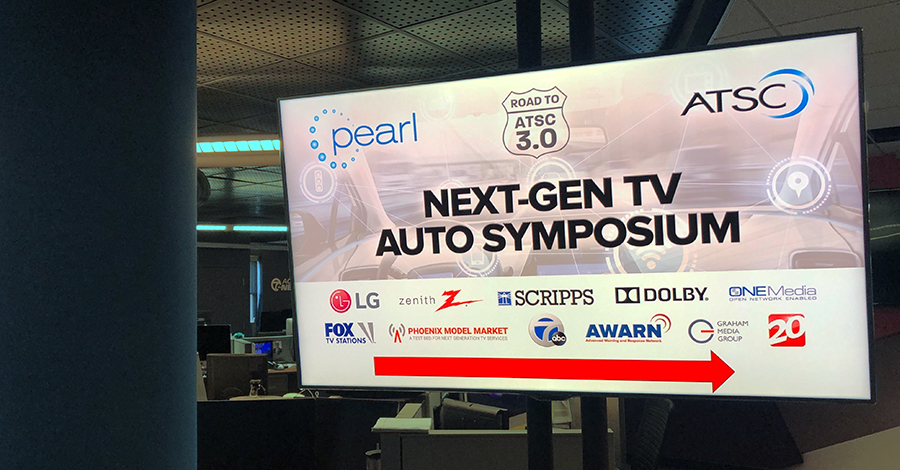 Last week, that work continued far from the Las Vegas show floor. Several broadcast and automotive executives gathered at WXYZ, the Scripps owned ABC affiliate in Detroit. WXYZ was hosting the ATSC Automotive Symposium on the same day they announced their sister station, WMYD, would serve as the ATSC 3.0 "lighthouse" station for the Detroit market. They envision becoming something of an automotive test bed for the country. Auto companies in attendance included GM, Ford, Honda, Hyundai, Avis Budget Group and more.
In this environment, ATSC 3.0 will be one of many IP networks that are used to connect cars…
Attendees heard from Next Gen TV experts from the ATSC, Pearl, Sinclair/One Media, NAB and LG Electronics. They also heard from researchers and analysts from UC Berkley and Red Chalk consulting. LG Electronics discussed their positive results in Korea with the 2018 Olympics and showcased an in-vehicle demonstration unit of how ATSC 3.0 could look in the car. Broadcasters were also able to hear from Honda and their partners at Connected Travel as well as Avis Budget Group. It was a great exchange of visionary leadership from all involved.
It was also a momentous day as Madeleine Noland officially started as the new President of ATSC. She opened the symposium with an overview of the ATSC 3.0 standard, and I followed with some more information about the vision for television broadcasters to participate in the connected car with some possible use cases that go well beyond audio and video entertainment. Next Gen TV will deliver great pictures and sound, but it is based on Internet Protocol (IP) and will be part of a heterogeneous network ("Het Net") approach to connected transportation. The one-to-many architecture of broadcasting makes it ideal for delivering data such as software updates, mapping information, clock/timing, traffic data and emergency information to vehicles. In this environment, ATSC 3.0 will be one of many IP networks that are used to connect cars, including 4G/5G, WiFi, DSRC, satellite and more.
A hearty congratulations to Anne Schelle of Pearl for spearheading this event and to everyone involved for their contributions. Thanks as well to WXYZ for hosting us and to all of the sponsors for their support.