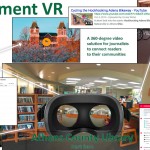 The PILOT Innovation Challenge sought ideas for unconventional ways broadcasters and local media could serve communities. Engagement VR won an Innovator Award, with an idea that allowed newsrooms to create virtual tours of less covered parts of their viewing area.
Halfway between Los Angeles and Las Vegas sits the small city of Barstow, California. Most people only know the name because they drove through it once or possibly stopped there for a quick pit stop on their journey.
This is where NAB PILOT Innovation Challenge finalist Hans Meyer spent two years of his reporting career as a general manager of the Desert Dispatch. During his time there, the city went through some economic troubles, which drew in the attention of larger publications like the LA Times.
"[The newspapers] did an extensive profile and only showed the negative parts of the town," Meyer, an associate professor at Ohio University, said. "They went to parts of town that local reporters knew people did not go to and took a lot of photographs there to represent the town as a whole."
Directly behind where the photographs were taken was a new mall that showed the young, but budding development of the town. Meyer drew inspiration from this experience to create Engagement VR: transparent community interaction.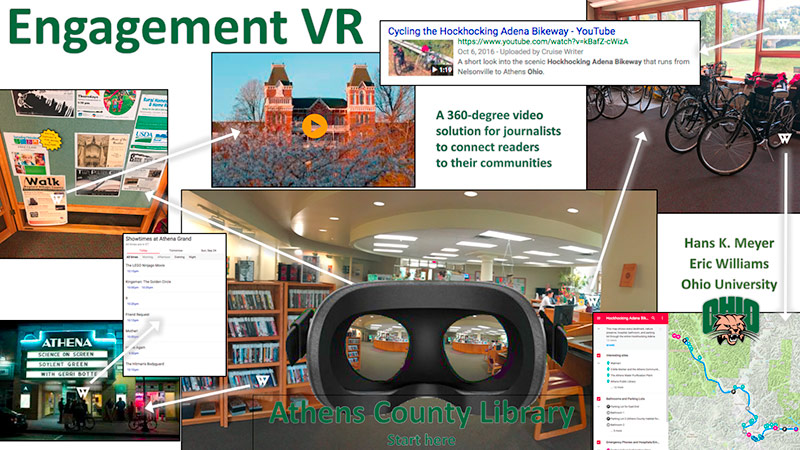 "I thought it would be really interesting if you could have seen that the whole picture in 360 degrees with the contrast between the depressed areas and the new development," Meyer said.
In the current media climate there is a lot of misunderstanding about what a journalist's role is, according to Meyer. His innovative idea breaks out of the one direction shot to show viewers the whole picture.
"We thought of Engagement VR as a way to get people involved and to take advantage of the broadcaster's skills while also expanding coverage in the communities," Meyer said. "There is an unprecedented level of transparency with VR and 360 degree video. You cannot accuse a reporter who is shooting in VR of only showing part of the picture."
Engagement VR looks to share a plan rather than provide an implementation process. Students at Ohio University, in collaboration with Meyer, will go out into the field in the spring semester and help create partnerships to test the reaction of using VR in the communities for journalism.
"We are not creating an application or a new program, but showing more of a proof of concept," Meyer said. "This is a unique technological solution to an age-old problem: How do news organizations build trust with their communities."