The PILOT Innovation Challenge sought ideas that would help local radio and TV broadcasters engage their communities with next generation content. In Your Shoes, a Virtual Reality series that uses VR to capture unique stories from intimate perspectives, won first place.
Make sure to read about the second and third place winners History Go, and The News Call.
According to Robinne Burrell, the power of virtual reality is in the intimacy shared between subject and audience. "In Your Shoes is an opportunity for really great stories to be told from a first person experience," she said. "The great benefit of 360 and VR is that you really get to be in the moment. That's why they call it immersive, because you truly are within the person's story."
This unique ability of virtual reality to bring down the walls between passive viewer and first person participant is the basis of In Your Shoes, co-founded by Robinne and her partner Trina DasGupta. "We wanted to put together a series that takes the best of both broadcast worlds," Robinne said, taking from the traditional stories that you follow on television, but combining it with the opportunity to "step into the stories of the other individuals and then really experience their point of view."
"The unknown is what's so exciting"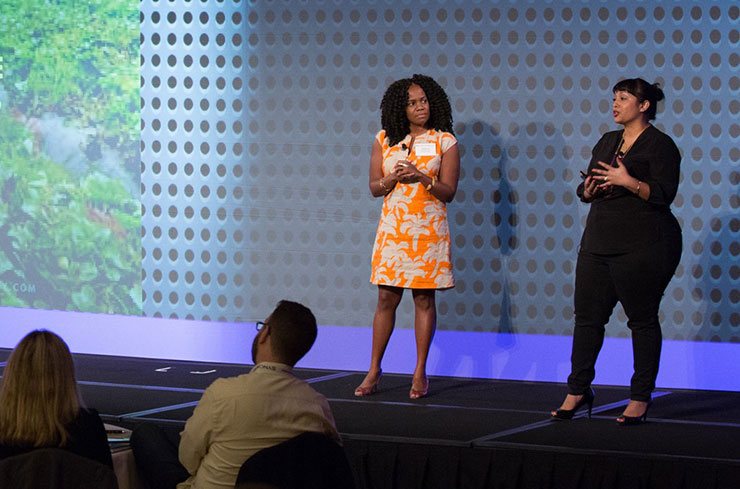 Robinne is no stranger to bringing entertainment to new platforms. "I have a background in film and television production," she says "but I am a techie at heart." She worked on MySpace's mobile distribution platform as well as on The Voice's interactive experience. She's also worked for companies like E! Entertainment, Sony and Amazon.
Most recently, Robinne worked with The VR Company on Take Back the Mic: The World Cup of Hip Hop.
"We did interactive VR where you could go deeper into [the artists] lives and communities. It truly was a multi-platform experience, and we submitted it for an Emmy and got really far, but lost to Facebook for Oculus' Henry."
In Your Shoes is planning to use the intimate nature of VR to give its audience new perspectives by showing two sides of the story. After the Innovation Challenge, they intend to begin chasing down these narratives. "We have a couple of folks that we've already reached out to, or that have already reached out to us, with great ideas for telling two sides of the story," said Robinne, "We want to pursue those and then begin creating a framework for the series based on these individuals and begin capturing their lives."
VR is a new space, and not without its challenges. "There's no great [VR] camera, or amazing editing software that solves all those problems," Robinne explained. "Workflows are still highly customized, and no matter which one you chose there's often the same limitations that appear, but it's fun. I find that you can always find a way to creatively combat the limitations of the tech itself."
Meet Our Second and Third Place Winners