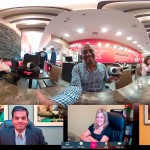 The PILOT Innovation Challenge sought ideas for unconventional ways broadcasters and local media could serve communities. LiveWorks won an Innovator Award, with their chat application which provides live 360-degree video streams that allow for multiple camera feeds and graphics to be sent to Next Gen TV enabled Smart TV's.
When 360º video first emerged onto the scene, it broke the rectangular boundaries of traditional video. NAB PILOT Innovation Challenge finalist LiveWorks seeks to shatter those same rectangular boundaries for broadcast television.
"I would encourage broadcasters to experiment with 360º technology and utilize LiveWorks to get this technology into their broadcast," LiveWorks co-creator Edwin Rogers said. "The goal is not to get your TV show into your VR headset, rather get the 360º experience on to the TV."
About five years ago Rogers attended a technology hackathon for NASA. It was here that he was first exposed to 360º video technology.
"After that hackathon, I bought six GoPros and stitching technology and tried to figure out how to create this kind of content," Roger said. "It just became a passion."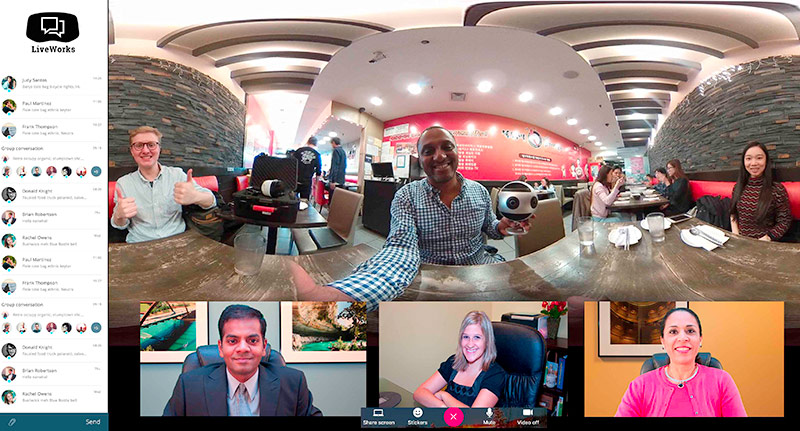 LiveWorks is currently still in the development stage, but the prototype uses 360º video in video chats to allow a fully immersive and interactive virtual chat room. With LiveWorks you can talk to someone and see the whole room or choose your own angle and perspective.
With a background in filmmaking and web design, Roger and co-creator William Steele designed LiveWorks for chat but hope to take the project much further into the broadcast world.
"LiveWorks is in the prototype phase," Rogers said. "What I see it in the future as is not just a video chat scenario but a broadcast scenario. There would be a reporter in the studio and a reporter in the field. The viewer can control what angle they view."
At first the 360º video was a hard sell because not many platforms existed to support the technology, but with Facebook and YouTube now supporting 360º video a new need emerged.
"When I first started consulting at NBC News and showing them the 360º video technology, the first question they asked was, "can it go live?"
Roger's proudest moment was pushing NBC News to shoot a VR Video at the Women's March in Washington D.C. It was a three-hour livestream in 360º video. The video received 3.5 million views, and surprised everyone at the network.
"To know that I captured history is amazing," Roger said. "To know that someone in 50 years could put on a headset and go to a place in the past in two of the five senses is phenomenal. No other format allows you to be in two places at once."