The PILOT Innovation Challenge sought ideas for unconventional ways broadcasters and local media could serve communities. nēdl took third place, with their project to use voice recognition to search and find specific news, sports, talk and music on radio.
Finding what you want to hear on the radio while simultaneously attempting to steer your car can be as difficult as finding a needle in a haystack, but a different type of nēdl could hold the solution.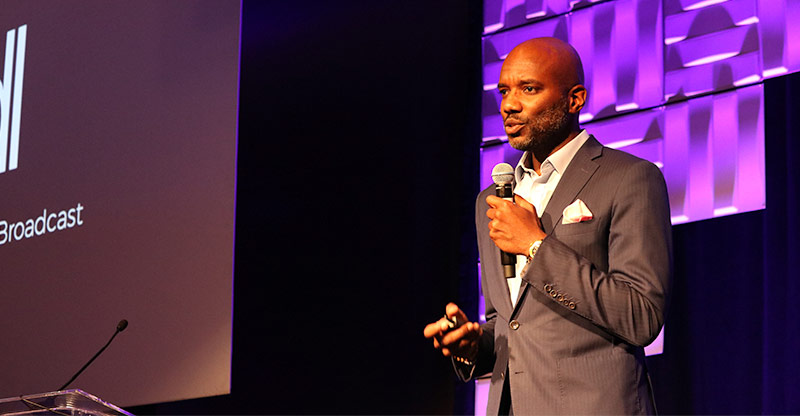 Developed by radio veteran Ayinde Alakoye and web designer Jason Medeiros, nedl uses AI technology to move from station-to-station with voice recognition. Eliminating the hassle and drawing ad revenue back into stations, nēdl looks to boost radio's competitive relevance.
"We are addressing a $39.5 billion global advertising market by solving a simple intrinsic challenge for radio stations to be heard. We are tackling tuning," Alakoye, who sold the largest direct advertising deal in LA's history in 2001 (CT Screening International), said. "nēdl allows you to search for keywords saying or playing on more than 100,000 live radio streams in real-time using Speech Recognition technology to go right to the radio station with the news, sports, talk or music that you want to hear."
Although today 53 percent of listeners are tuning in to radio outside of the car according to Nielsen, Alakoye believes that will change once driverless cars take off in the market.
"The case for radio needs to be made before that shift occurs and that is what we are trying to do," Alakoye said. "We are trying to bring radio into our modern world and allow it to operate the way other technologies operate without individual radio stations changing anything."
Nēdl is a way to get the listeners and advertisers back to broadcast by offering an easier way to search and listen.
And, Nēdl isn't just for the existing radio stations. The app also allows users to go live on the same platform and have their words go directly into the search filter to be sorted and searched through nēdl's AI.
Alakoye created nēdl looking to develop a solution for consumers to more easily enjoy radio. Now, the next step is commercialization.
"We want to create an ecosystem for radio that allows radio to flourish," Alakoya said. "We want to help radio benefit from the self-publishing trend that is much less a trend and more a self-publishing world."