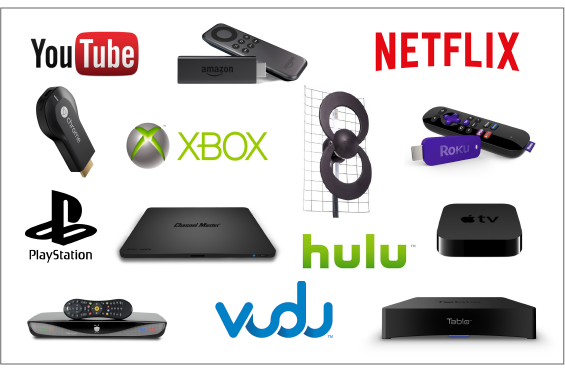 I got a message from a friend on Facebook saying she had cut the cord. I never thought of her as impulsive, so I was a little surprised that she waited until she cancelled her cable to ask, "what do I do for TV now?" The truth was, she didn't care. She just knew she wasn't going to pay her cable bill any longer.
I wrote up some thoughts and shot them over to her. She then suggested that I write a blog post because she has so many friends that are also considering making the move. Now that we have Broadcast Blog, I'll share a redux of those thoughts.
The big thing most cord-cutters want is continued access to their favorite channels and shows, which typically air on local broadcast television affiliates of ABC, CBS, FOX, NBC, Univision, PBS, ION and others. They also want on-demand access to other shows or movies. Good news: all of these channels are available for free via over-the-air (OTA) wireless broadcast signals, and there are a variety of over-the-top (OTT) streaming services that will provide access to on-demand programming.
OTA
To start, you need an antenna to pick up the OTA broadcast stations. As an added benefit, the OTA signal will often give you the best quality high-definition (HD) picture as the image hasn't gone through the additional compression of the cable systems.
When trying to determine the correct antenna type for your location and viewing preferences, check out AntennaWeb.org. This site gives you the distance and directions of nearby towers as well as advice on what antenna might be best for you, based on your home address. I entered the zip code for my home address and you can see that I can get up to 76 channels from 29 OTA broadcasters.
If possible, I recommend buying an outdoor antenna and placing it on a rotor (this can be very useful if your home is situated between a number of towers) and then simply tie it into where your cable line used to enter your home; that way all of your TVs will benefit from this good outdoor antenna reception. With that being said, in many cases all you need is an antenna in the attic or something simple near your TV for indoor reception. When purchasing, I recommend taking a look at the manufacturers Antennas Direct and Channel Master.
Now, if you'd like to record some shows from your OTA feeds you can do that too. The Tivo Roamio has a honkin' hard drive and it also has a program guide ($15/month subscription) for scheduling and recording your shows. The subscription is only necessary if you want to schedule a TV recording. Channel Master's DVR+ has two different storage size options and a free program guide. Plus, it has two tuners, so you can watch one show while you are recording another. Tablo DVR comes with four tuners.
The nice thing about these units is they also provide access to OTT streaming services like Amazon, Netflix, YouTube, VUDU, and more. More about that below.
OTT 
Streaming services like Amazon, Netflix, Hulu, VUDU and YouTube are all examples of OTT solutions that have a lot to offer at a fraction of the price of the average cable package. There are a wide variety of devices that enable access to these services as well as original content from these companies.
In addition to the Tivo Roamio, Channel Master DVR+ and Tablo DVR  mentioned above, some other popular OTT devices include:
Chromecast (with your PC)
Many Smart TV sets come preloaded with OTT streaming services
For me personally, I start with Amazon because they include lots of content with my Prime membership. I love that 2-day shipping, and giving me instant access to video makes it even cooler. Plus, it is already built into many devices listed above. Next on my list is Netflix. I also use AppleTV, because it frequently has the best picture quality in my opinion and I can download and playback later on my laptop, tablet or phone.
I should qualify all of this by saying I still have a robust video subscription with Verizon FIOS, so I'm not currently a cord-cutter (though I have been in the past). I enjoy the convenience of my FIOS subscription, but there is no doubt that cord-cutting is more than a fad. PBS reports that in the past five years, 3.8 million households have already cut the cord. According to USA Today, perhaps another 7% of households are expected to drop their cable subscription and rely on over-the-air broadcast television and online streaming services.
For further reading on "cord-cutting," you can check out this WSJ article for understanding why cord-cutting has become such a hot topic and this Geeks Life article for diving deeper into your OTA and OTT options.
Broadcast Blog is a service of NAB Labs for NAB members. If you have questions about anything you've read here please contact NAB Member Services and they can put you in touch with some of our tech experts.