Mobile reception has been discussed since the early days of standardization for ATSC 3.0 or Next Gen TV. Just as there was a wide range of opinions on what functions ATSC 3.0 should include, the concept of mobility itself had a variety of definitions. Some thought ATSC 3.0 mobility should allow reception in vehicles moving at high speed, while others felt it applied to stationary or slow-moving portable devices like tablets and smartphones, used within essentially fixed locations. The standard was eventually developed to enable suitable mobile reception for all of these use cases.
The ATSC 3.0 transmission format provides a wide range of operating points, allowing versatile and highly granular tradeoffs between payload data rates and robustness. It also enables distributed transmission through single-frequency network (SFN) configurations, as well as a clever, signal-cancellation-based overlay configuration known as layer division multiplexing (LDM), both of which offer advantages to mobile reception.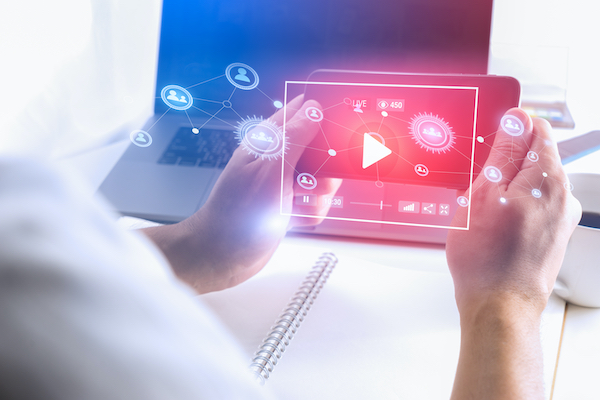 As ATSC 3.0 standardization groups were developing the technologies for mobile reception, the industry soon started thinking about possible mobile Next Gen TV use cases and products.
Three challenges to mobile reception of Next Gen TV on a smartphone form factor were quickly identified: receiver integration, antenna requirements and battery-life impact. Anticipated resistance by mobile operators — at least in the early days — to installation of a dedicated Next Gen receiver chip in smartphones led to an integrated, outboard concept similar to one already proposed for ATSC 1.0 reception on those devices. That proposal comes from a startup named Airwavz, which has developed a product named Quarterback, an add-on device that contains a backup battery, an internal antenna and an ATSC 1.0 receiver in the form of a snap-on smartphone case. Adapting this approach to ATSC 3.0 operation would seem to be fairly straightforward, and given ATSC 3.0's mobile reception capability and increased signal robustness, such a solution should work even better than it would for ATSC 1.0.
A second approach anticipates incorporation of an ATSC 3.0 chipset into the smartphone itself. This process has led to the development of a small, low-power-consumption, software-defined radio receiver chip intended for smartphone application. Mark Aitken, senior vice president of Advanced Technology at Sinclair Broadcast Group and president of ONE Media, mentioned at an NAB Show Express session that a reference smartphone integrating this solution will be available for testing soon.
A related development with possible longer-term impact involves recently launched discussion on integrating Next Gen TV with 3GPP 5G services, as one of 5G's so-called heterogeneous delivery methods. This could open new business opportunities between the wireless and broadcasting industries. Such convergence may require development of additional capabilities beyond what has already been standardized in ATSC 3.0 to date. ATSC has therefore formed a new planning team ("PT-8"), which is currently conducting a gap analysis on this possible convergence. This path is necessarily long and may face competition from other 5G-based technologies and proponents along the way, but it has already attracted a wide range of companies to the discussion, some of them previously uninvolved with ATSC or the television industry.
There is clearly substantial movement on the mobile front for Next Gen TV. Given that it adds a previously unexplored capability to local television broadcasting, it is to be expected that much learning will emerge as commercial deployment of Next Gen TV continues. Fresh ideas and opportunities may get traction, while some traditional concepts may fade. One thing is certain, however: many innovative technical and business opportunities will be explored in the near future, all engendered by the new mobility of Next Gen TV.