Excitement surrounding Digital Radio and Hybrid Radio opportunities is global. From February 11 through 14, David Layer, vice president of advanced technology with NAB, and I participated in EBU's Digital Radio Week in Geneva. While different regions are approaching opportunities for digital and hybrid radio in different ways, there are common threads that bind the solutions together. Digital Radio Week featured a myriad of exciting elements including the RadioHack, RadioDNS's General Assembly meeting and the Digital Radio Symposium. Throughout the week, Audi demonstrated their in-car hybrid radio platform which has been deployed in the 2019 A8.
Digital Radio Week began with the two-day RadioHack. In its third year, RadioHack brings technologists, service providers and radio enthusiasts from around Europe and around the globe to work together, address challenges, share ideas and move solutions forward in the areas of hybrid and digital radio. At the end of the two days, groups of designers reported out on what they learned and changed through this effort.
Informal exchanges like this provide developers a platform to work with some key service providers in a direct, intensive effort that is often not available in the context of developing back at the lab.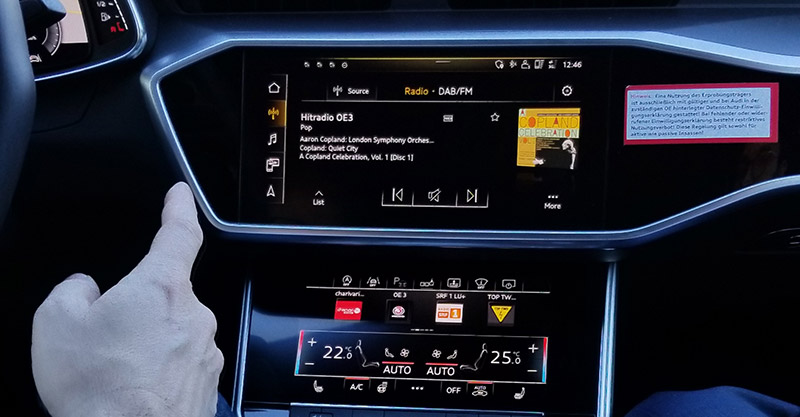 The EBU also served as host to RadioDNS's General Assembly meeting on February 12. While focused on the current status of RadioDNS, the leadership also discussed the plans for future development and support. One key area of interest for the leadership is the addition of a phoneme field to the RadioDNS database. A problem that we share with our European brethren is that voice search for our stations can be problematic. For example, in the US, K-R-O-Q is branded aurally as K-Rock. However, voice assistants may associate different phonetic pronunciations with that combination of letters. By providing phoneme guidance in the database, different voice services would have a unified reference for that search.
On February 13, the EBU convened the Digital Radio Summit. The summit focused on the global state of digital radio and featured updates on the worldwide transition by a wide variety of players in this space.
David Layer and I discussed the status of digital radio in North America. Key features of that presentation were a discussion of WWFD's all-digital AM field test and the EBU/PILOT voice-enabled digital radio. The presentation also provided insights into working on and with the various voice platforms including the state of the industry, best practice guidance and platform differentiation.