NAB has issued the Call for Presentations for the 2022 NAB Broadcast Engineering and IT Conference (submissions are due by January 14) at the NAB Show (April 23-27 2022), which will be here before you know it so get your proposals in early! But presentations and the Proceedings of the 2021 NAB Broadcast Engineering and IT Conference became available last month, and there is a wealth of timely information available from that virtual event.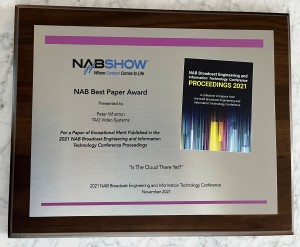 The 43 papers included in the 2021 Proceedings publication offer an up-to-date view of a wide range of broadcast and broadcast-adjacent technologies that media engineers will find both fascinating and professionally beneficial. No better example of that is the paper that was bestowed with the NAB Best Paper Award: "Is the Cloud There Yet?" by Peter Wharton from TAG Video Systems. This is one of eight papers in the "AI and Cloud Technologies for Broadcasting" category (which is the category with the most papers except for Next Gen TV Technologies) and makes the case that cloud technologies have evolved to the point that, for both technical and economic reasons, they are highly relevant for media distribution and deserve the full attention of broadcasters.
The paper looks at the motivations for moving to the cloud and traces the history of cloud adoption over the last decade as media organizations have experimented and mutated their workflows to adapt ultimately to efficient and reliable cloud operations. As a setup for the presentation of several examples and case studies to prove his point, Wharton leaves no ambiguity on his position as he states the core question and answers it: "Is the cloud truly there yet for media? Yes, for almost all applications and workflows." Pointing to the revolutionary nature of cloud operation, he opines:
"This isn't just a technology shift, it's a fundamental change in how we create and deliver media as a business. Underpinning this is a transformational cultural shift at every level, one that media companies are still in the early stages of adopting. Before we can begin that journey, we must first be willing to discard the technology and workflows of yesterday and be open to rethinking completely what it is we are trying to do."
Overall, with clear exposition, appropriate accompanying examples and illuminating graphics, the author makes a compelling argument and the paper is likely to give pause to even the most ardent conventional technologists about when cloud technology might become relevant in their lives and businesses. You can buy just the paper for $15. The entire Proceedings is a great deal and available for only $75.