The third annual Global UHD Conference took place on May 22nd in Seoul, Korea as part of the KOBA Show. NAB was delighted to once again collaborate with our friends at RAPA (Korea Radio Promotion Association) to program and produce this important gathering of video and broadcasting experts. And it was truly a global gathering, with expert speakers from Asia, Europe, and the United States discussing various standards and styles of broadcasting and media consumption. I was impressed by both our diversity, and how much we have in common.
My speech was entitled "Better is Better." It was themed on U.S. broadcasters desire to continually improve, and how our adoption of ATSC 3.0 is part of that effort to be better broadcasters. The phrase "better is better" came from Jim Goodmon, CEO of Capitol Broadcasting Company (CBC), as he described in a 1997 Broadcasting & Cable interview why it was important for broadcasters to adopt the initial ATSC digital television standard, now affectionately referred to as ATSC 1.0.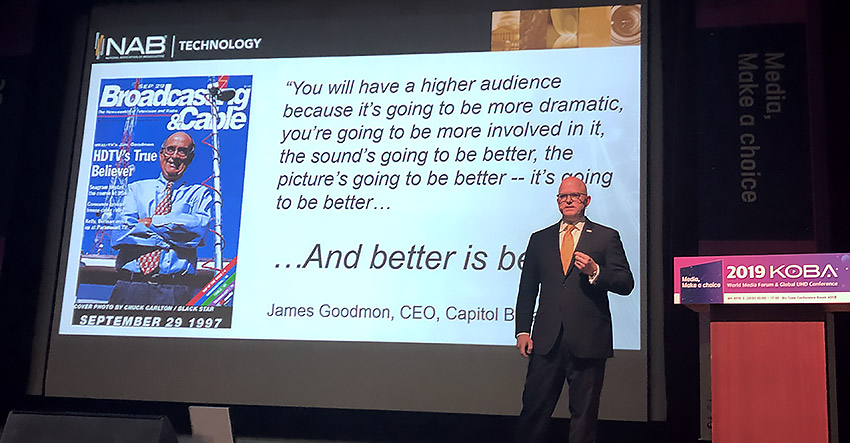 His son, Jimmy Goodmon, is now COO of CBC and more recently said, "It would be better if we had something better" when referring to the need to adopt ATSC 3.0. I was able to convey how the Next Gen TV standard is better, plans for deployment, and some of the applications that broadcasters find valuable. I also participated in a global panel discussion to close out the day's events.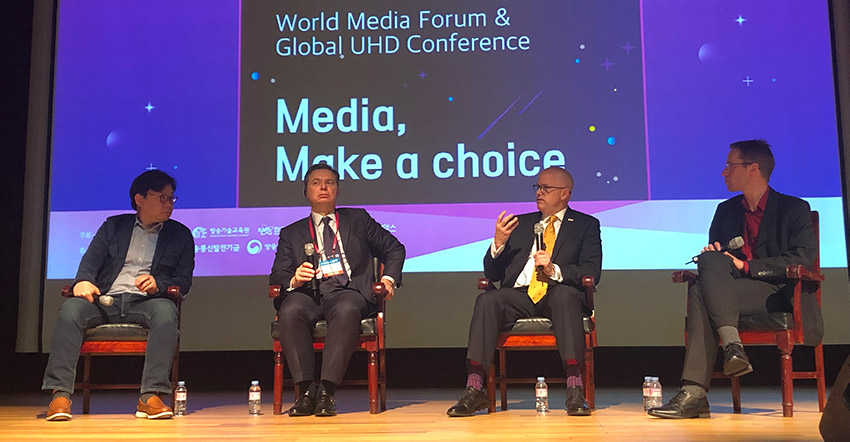 Perhaps more importantly, I was able to learn from experts around the globe about their experiences. They discussed their challenges, opportunities, successes and setbacks. It was great to see how much we have in common as we strive to serve our respective communities. Some of these folks included:
Vincent Grivet, HbbTV Chairman
Steve Miller Jones, Limelight Networks VP of Products and Services
Kyungmo Stanley Park, SK Telecom ICT R&D Center
Frans De Jong, EBU Senior Engineer
Pete Van Peenen, Pearl TV Technical Consultant
A bonus for me was the honor of helping to open the KOBA show. I loved the pomp and ceremony and the importance it conveyed. Each person was introduced to the sizable crowd that was gathered. Following the introductions, each person was presented with white gloves and golden tasseled scissors. We all then stepped forward and cut an elaborate ribbon to officially open the show floor. This was followed by a bespoke tour of key exhibits highlighting the technology of various vendors.
Beyond the conference and show, this trip was particularly special for me for a couple of reasons, one personal and one professional.
On the personal note, I was able to visit with my cousin, Trey, to celebrate his 50th birthday. He lives in Hong Kong and I only get to see him once every few years. I was grateful that he took the opportunity to fly up to Seoul to hang out during my time zone "adjustment" day prior to the show. We took in the city and did some metropolitan hiking by climbing to the top of Inwangsan Mountain where we could get an excellent view of the city, including the Seoul (Broadcast) Tower. We also took in a view of the tower from the Kloud roof top bar.
On a professional note, it was an honor to meet a delegation from Bangladesh as they begin to consider which digital television standard to adopt. These were wonderfully thoughtful and kind people, and it was great to learn about them and their country. We spent a day together visiting RAPA, KBS, and SK Telecom. It was great to see all of the amazing technology that day, but my favorite part was our lunch and the time we spent walking through the park to KBS.
We also visited Jeju Technology Park on Jeju Island to see the Korean Next Gen TV test bed. They had several nice racks of equipment where they could transmit many different television and radio broadcast standards, including ISDB-T, DVB-T2, ATSC 3.0, and DAB+. This is a valuable resource and one that will continue to grow to include an ATSC 3.0 single frequency network (SFN) and more advanced testing.
Beyond discussing broadcasting and technology, here are some things I learned from my new friends from Bangladesh…
Bangladesh has one of the longest beaches in the world, Cox's Bazar.
The Bangladesh economy is growing faster than China's.
Textiles are a major and growing export, currently second only to China.
This was a wonderful opportunity for the NAB to share the bright outlook for broadcasting in the U.S. as well as our members' commitment to Next Gen TV. A huge thanks to Ginam Cho for handling all of the logistics and to Jay Jeon of RAPA for being such an amazing host!