Raleigh, North Carolina-based WRAL is using new tech to craft coverage that is visually appealing and offers viewers a deeper understanding of the content.
The WRAL-TV team knew they wanted to do something special for their 2018 Winter Olympics coverage. They had been thrown headfirst into exhaustive coverage of the 2016 Rio Olympics after WRAL switched its affiliation to NBC, and they knew they wanted to give it their all again. "So, we started brainstorming, how could we produce these half-hour specials in our Olympic coverage, make it more visually appealing and really bring it into the current century in terms of presentation?" said Leesa Moore, director of News Operations, Sports and Special Projects for WRAL-TV. With that in mind, their answer was clear: build an AR/VR studio.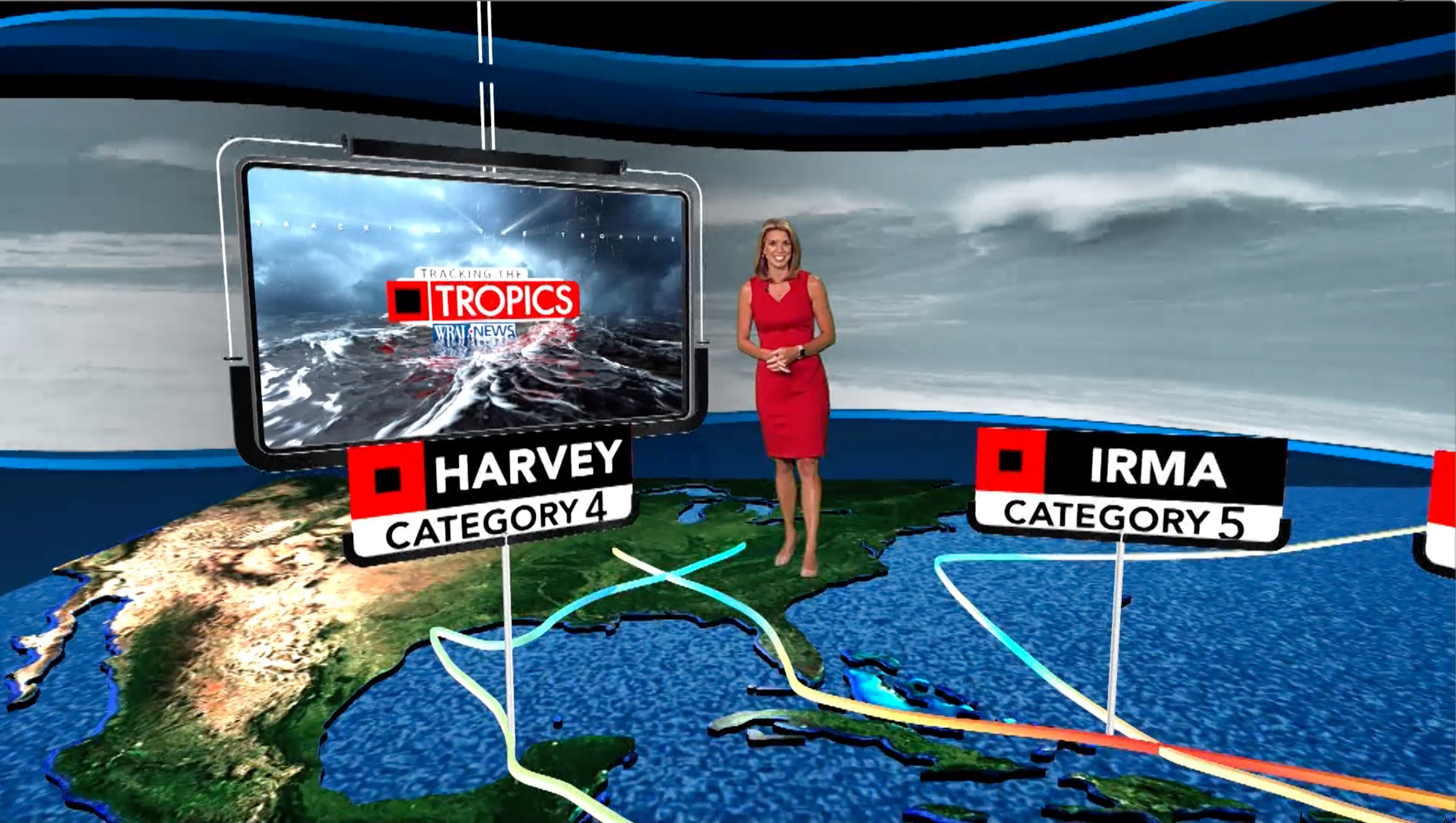 Investing in AR/VR had been on the table for a while — the station had been experimenting with it for a couple of years, occasionally adding elements into their weather coverage — but the 2018 Olympics provided the push they needed to take it to the next level. "We just felt like there would be a certain wow factor there that would appeal across age groups and across brands," said Moore.
They had a studio where they did a lot of non-news productions, so they used it to build out what they deemed "The Olympic Zone," which took them just under six weeks to set up. They partnered with Ross Video on the project, which worked closely with the WRAL team to ensure they had all the right technology and infrastructure in place; and they tapped Shan Zhong, visual design director at WRAL, who Moore referred to as their "resident genius" to build the graphics.
The 12-by-14 studio is a standalone, self-contained space with a control room, two robotic cameras, its own teleprompter system and a small audio board; it's limited to special production and is staffed on an as-needed basis. The studio is big enough to comfortably fit three people — usually two anchors and a guest. They are able to produce several sports shows from the studio that incorporate features like virtual monitors and augmented player stats.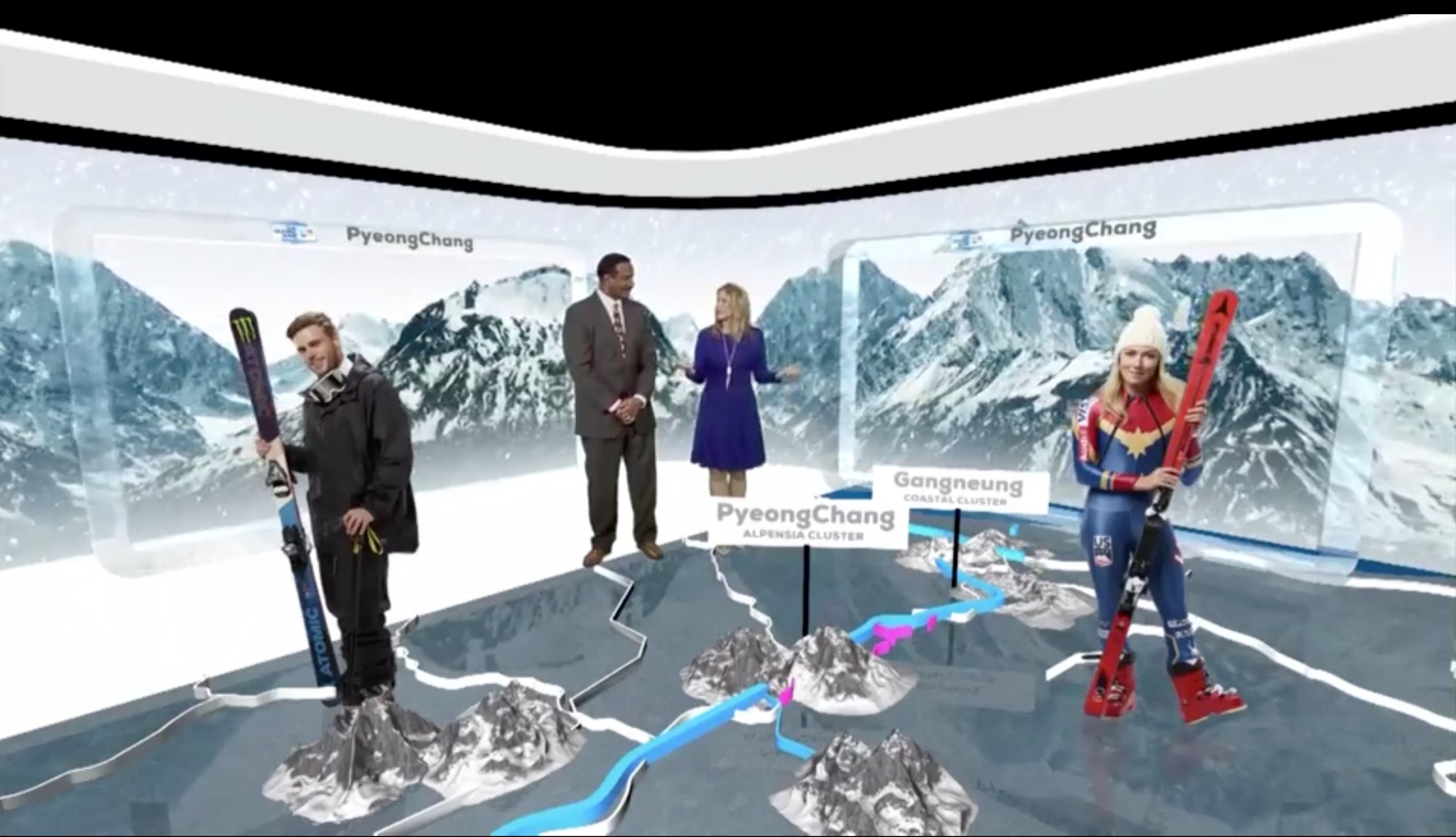 For The Olympic Zone, the station used a green screen and virtual and augmented reality to make it look like the two anchors were standing in front of a mountainous backdrop of Pyeongchang, South Korea, where the Olympics were held, replete with falling snow. And they had different apps pop up in front of the anchor throughout their programming, including life-size cutouts of athletes with their stats, and of the daily medal count.
"When we finished that first half-hour special, there was a lot of tension, there were a lot of nerves, but we just felt like we nailed it," Moore said. "It was a new frontier for us and it really came together, and we learned a lot along the way." Did we mention the team won an Emmy for their coverage?
After the successful Olympics feat, there was a lot of momentum in the air. "We were like, 'Okay, how can we utilize this and not just shelve it for a couple of years?'" Moore said. They've since used the studio for other special events coverage, like a hurricane preparedness special in which their meteorologist stood in the middle of a hurricane and they showed wind speeds, damage and more.