On Monday January 23, PILOT and the Local Media Association hosted the OTT Summit. Industry thought leaders including Newsy, Calkins Media and BIA/Kelsey discussed the logistics of incorporating over-the-top (OTT) into existing business models and presented case studies that demonstrated how to successfully leverage the technology. We've gathered the key takeaways and insights that can empower local media organizations to take the OTT leap.
Live and Linear
The more things change, the more they stay the same: true for Bon Jovi, and true for OTT. While the delivery method is different, our speakers repeatedly emphasized that audiences are still looking for the same things they always have. "In 99% of cases, people just want to turn on the TV and watch." said Blake Sabatinelli, general manager of Newsy.
"Live is where it's at." – John Conway, WRAL 
Newsy delivers over a million and a half hours of linear content a month, showing  lean back viewing hasn't gone away according to Sabatinelli. OTT doesn't necessarily mean on-demand content. John Conway, general manager of WRAL.com, agreed, saying "Live is where it's at." Conway explained WRAL was seeing an average viewer time of 59 minutes for the live stream of its morning news.
Available On Demand
Of course, the ability to deliver content on-demand is one of the benefits of OTT, and broadcasters have hours of quality footage that doesn't make it over the air due to time constraints. Leveraging this content can be a key to OTT success. Conway said that by providing WRAL's VOD archives over their app, they were able to increase user retention.
Stephanie Slagle, a digital advertising sales leader at WBNS-TV, talked about how these on-demand services can provide more depth. "For example, if we have an interview with a celebrity and are only able to produce a 30 second to 90 second piece for the broadcast, in an OTT space we might put the entire interview up."
Sell As Seen on TV
"Audiences want content, marketers want audiences and programmers want marketers," said Rick Ducey, managing director of BIA/Kelsey. This model has existed since television's genesis, and content coming through a different pipe doesn't change that model. As long as broadcasters are reaching their audiences, content remains as valuable as ever.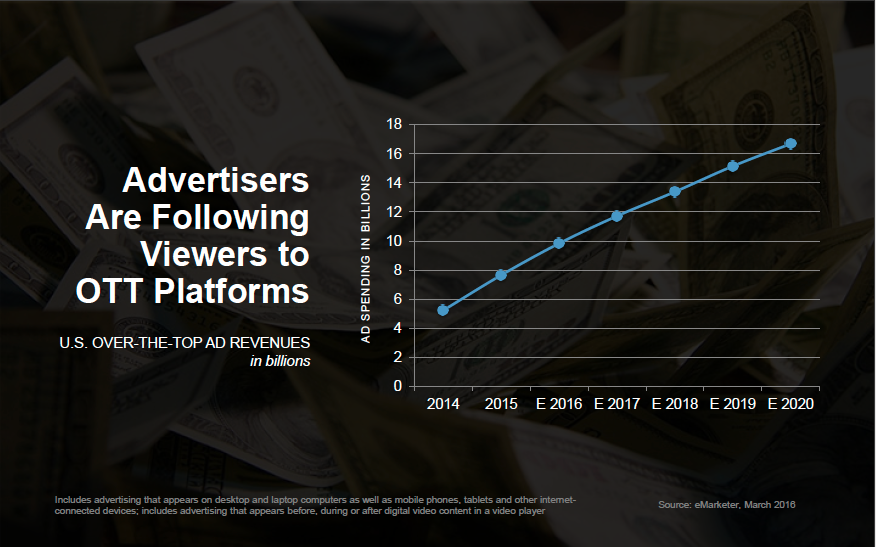 Advertisers will follow audiences, and Ducey notes this is already happening. The most recently available data shows two times as many advertisers planned to spend on OTT in 2016 as they did in 2015. Advertisers also have been increasing  spending each year. "By 2021," Ducey said, "local online digital ad revenue will grow to $76.3 billion," or 43% of U.S. local ad revenue. In a sense, selling TV is still selling TV.
OTT can also provide unique revenue opportunities. "If you're in the advertising business," said Ducey, "OTT means better reach, targeting and measurement." Gathering this data, and providing actionable information means  broadcasters can increase their value to marketers.
Build Your App
"There's a reason why Apple says the future of TV is apps," said Daniel Barreto, co-founder and CEO of Haystack TV. Content remains king, but delivery is a close second. As audiences shift towards OTT platforms, it's important local media organizations have a presence there. Building an app is an obvious first step, and   the panel agreed the technical challenges aren't big hurdles. Slagle recently soft launched the WBNS-TV app, and said, "we haven't had any challenges, the technical challenges are easy. The biggest challenge is having the station pivot to a different distribution platform."
"OTT is TV." – Blake Sabtinelli, Newsy
As with any new innovation, communication and adaptability is key. Slagle held weekly lunch and learn events for all WBNS staff to build consensus, gather ideas and build a working committee.She also built the platform without any preconceived notions about the content  people wanted to see, and instead remained agile and open to new data to inform decisions.
Platforms Are the New Networks
When building your OTT application, speakers underlined the importance of being on as many platforms as possible. For a growing population, specific OTT apps are the only source of TV, and putting your content in front of these viewers is the goal. So it follows that the wider your reach across the various OTT platforms, the larger share of the audience you stand to gain. Our speakers encouraged waiting until you are available on multiple platforms before beginning any big marketing push – the last thing you want to do is disappoint viewers by not having your content available on their favorite OTT app.
Our expert speakers also advised leveraging social platforms as a way to promote your content and engage with your audiences. Newsy, for example, edits their content for Facebook, and is also experimenting with a SnapChat-only series soon.
Getting your content in front of the largest audience possible is key to OTT success, and reaching large audiences is something broadcasters have excelled in since television's earliest days. While delivery methods may be changing, there's no need to reinvent the wheel. As Sabatinelli told the attendees, "OTT is TV. You have all you need, just build the apps and deploy."