No, that's not a typo—6G, the future but inevitable step beyond 5G wireless, is a lively topic of research in the technical side of the mobile broadband world. Below are some examples of initial thoughts about the technologies that are likely to underpin 6G and the new services that will be enabled by those 6G technologies. As we embark upon the era of ATSC 3.0 broadcasting, studying the example of wireless broadband evolution may have relevance for how to approach future generations of broadcast technologies.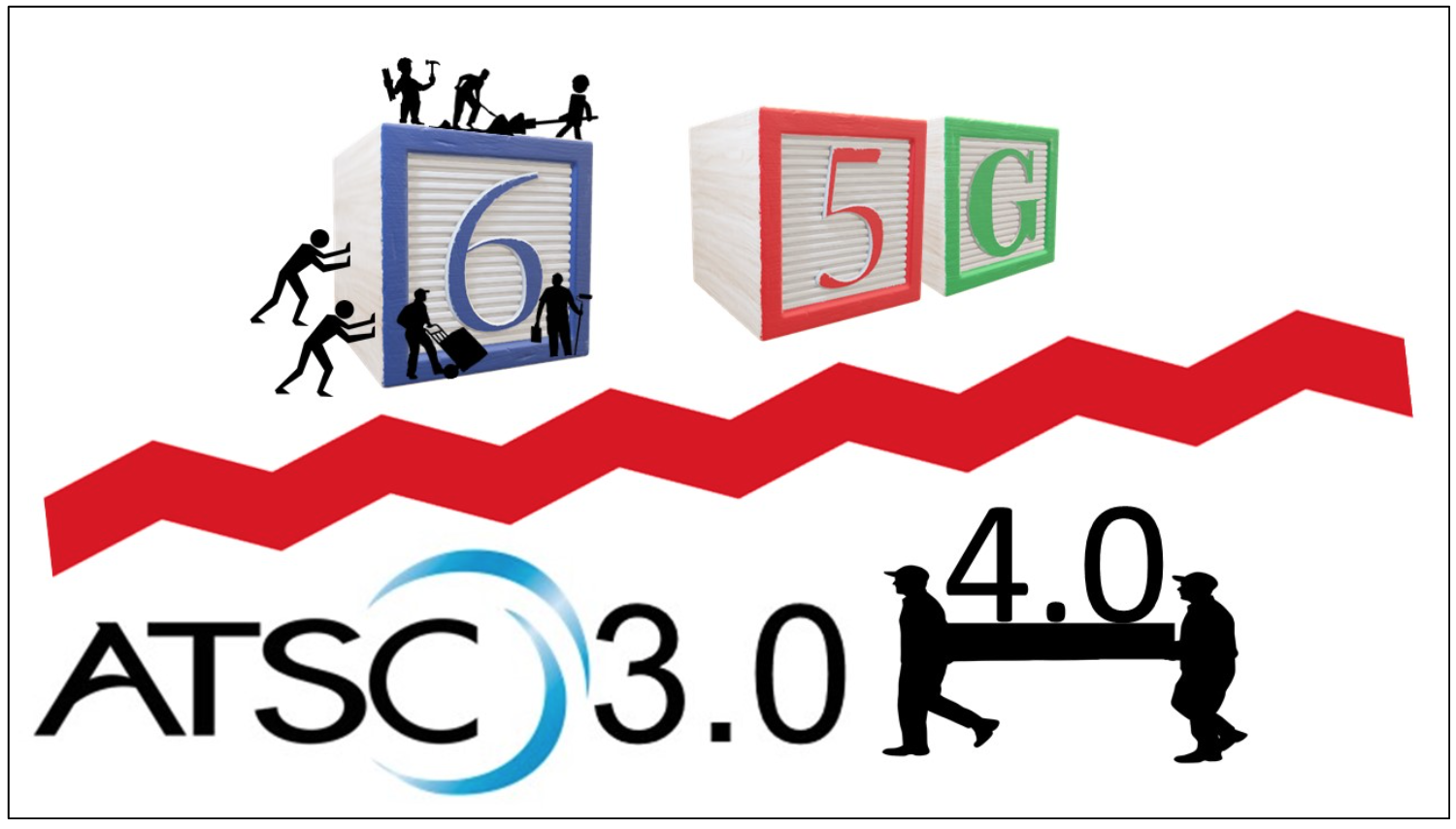 Discussions on 6G have been ongoing for the past several years in a number of technical forums. For example, a September 2019 white paper titled "Key Drivers and Research Challenges for 6G Ubiquitous Wireless Intelligence" resulting from the first 6G Wireless Summit held in March 2019 in Levi, Finland, was touted as the world's first white paper on 6G wireless technology. As another example, NTT DOCOMO in Japan published a white paper called "5G Evolution and 6G" in January 2020. For context and reference as to the orders of magnitude of performance improvements expected from 6G, below is a graphic from the NTT paper showing the areas where 6G technology is expected to leapfrog that of 5G.
Most recently, on July 14, 2020, Samsung Research released a white paper called "6G: The Next Hyper-Connected Experience for All" expounding on their views and research on 6G wireless communications services. Below are some of the major themes emerging from that paper.
The Samsung paper begins by identifying some of the technology megatrends that will facilitate 6G technology:
Connected Machines – 500 billion connected devices expected by 2030
AI – The coming practicality of embedded AI in networks and services
Openness of Mobile Communications – Availability of software-based implementations of network entities also enables open source software to realize network functions
Social Goals and Mobile Communications – Improved access to information, resources and social services without constraints of time and physical location
The paper then describes potential media service features of 6G that are not possible in the 5G tool portfolio:
Truly Immersive XR – Extended reality (XR) combining virtual reality (VR), augmented reality (AR) and mixed reality (MR) modes
High-Fidelity Mobile Hologram – Hologram displays as a part of real-time services, requiring transmission data rates hundreds of times greater than the current 5G system
Digital Replica – The possibility of replicating physical entities, including people, devices, objects, systems and even places in a virtual world
The area of candidate technologies for the 6G era are also described in the paper, including such concepts as Terahertz technologies, novel antenna technologies, evolution of duplex technology, evolution of network topology, spectrum sharing, comprehensive AI, split computing and high-precision networks.
The Samsung 6G paper, as well as others on the subject, are certainly interesting for their discussion of future technologies' eventual promise, but one might question why the industry players have chosen to make public announcements now, with 5G just getting off the ground. Isn't it a little early to claim victory and move on to the next challenge for communications technology? For Samsung's part, Sunghyun Choi, head of Samsung's Advanced Communications Research Center, rationalized it this way in a press release announcing the white paper. "While 5G commercialization is still in its initial stage, it's never too early to start preparing for 6G because it typically takes around 10 years from the start of research to commercialization of a new generation of communications technology."
Which brings us to possibly the most interesting and salient section of the Samsung paper for broadcasters, which involves the expected timeline for implementation of this new era of broadband systems. In the figure below, excerpted from the paper, the various generations of mobile broadband technology are plotted along a time axis, and are broken into vision/technical standard and deployment portions. The graphic shows the general tendency in recent times for shortened periods between the beginning of the technical concept of a standard and its deployment in the marketplace.
Broadcasters may notice that their own path toward Next Generation TV and beyond has some similarities with mobile broadband technology evolution. Using the figure above from the Samsung white paper as a starting point, below is a depiction of generational change for digital television and radio in the U.S. (You may quibble about the starting dates the vision stages, but they're in the ballpark.) Given the longer useful life of television sets and vehicle radios compared to typical mobile broadband devices, it is not surprising that there have been longer lifespans for each generation of broadcast technology. Nevertheless, the tendency toward reduced time cycles from concept to technical standard is apparent with ATSC 3.0, and it could be expected to also apply to a future ATSC 4.0 and beyond.
Consider as well that broadcasters currently find themselves in a substantially similar situation to the wireless broadband industry in that we are in the midst of a technology-generation changeover. As broadcasters start to deploy ATSC 3.0 or Next Gen TV, a "Next-Next Gen TV" (ATSC 4.0?) planning process has already begun. ATSC 3.0 makes such evolution possible through features such as the "bootstrap" signal, the universal entry-point signal that allows evolution to new technologies in an orderly way (by not confusing legacy receivers that may be incapable of receiving or processing newer technologies). In addition, ATSC has chartered and organized specific groups ("Planning Teams") to start actively looking at and analyzing candidate technologies and services for future generations of broadcasting, and their work is ongoing. (About a decade ago, a similar set of Planning Teams developed proposals for what ultimately became ATSC 3.0.) An example of recent work product about relevant future technologies that may be of interest is the ATSC Planning Team 4 on Future Broadcast Ecosystem Technologies Report on Advanced Video Coding.
So, what are the transferable lessons for broadcasters from examining the wireless broadband industry's early work in researching and promoting 6G? Beyond just the fascinating details of forecasts for what 6G service will make possible, at least three general, if perhaps slightly irreverent, takeaways occur to me as worth applying to the case of broadcast service evolution beyond ATSC 3.0:
There will always be a next generation of technology headed your way, so get out front of it. ("Once a new technology rolls over you you're either part of the steam roller or part of the road." – Stewart Brand, author)
Showing confidence in the likelihood of future advanced services lends credence to the value of the current generation of services. ("But wait, there's more!" – Ed Valenti, entrepreneur/infomercial pioneer)
Strategic marketing is a critical tool for adoption of new technology. ("It slices, it dices, it makes julienne fries!"—Veg-O-Matic marketing phrase from 1963)
In short, 6G is coming and so is ATSC 4.0, or whatever it ends up being called, and the time for initial planning and industry discussion has arrived. With acknowledgment that trees certainly grow slowly compared to developing contemporary technical standards, the broadcast industry should adhere to the wisdom of the Chinese proverb "The best time to plant a tree was twenty years ago; the second best time is now."