Today at the Show, we covered a drone race on the red planet, watched a magic show with drones and learned about the future of internet video with the Alliance for Open Media's AV1 codec.
A Race on Mars
Last year at NAB Show, we teamed up with Amazon Web Services and NASA to bring the first ever live 4k stream from space. This year, Amazon and NASA are back with a new session, Race on the Red Planet.
The Race
You know when you're producing a live rover race from the surface of Mars and you need machine learning and artificial intelligence in your workflow to get all the off-world shots you need? Maybe not yet, but the AI and ML solutions used to solve these future off-world broadcasting problems are available to help you now.
The opening act of the session imagined a future Martian drag race and took the audience through a series of production challenges solved by AI and ML. Although we're not yet racing on the red planet, the solutions can change the workflows of live production now.
Magic, AI and Drones
Arthur C. Clarke's famous third law states, "Any sufficiently advanced technology is indistinguishable from magic." Perhaps nobody better exemplifies this principal than cyber illusionist Marco Tempest.
Marco took the stage in the second act of the AWS session to present a bright vision of the future using his unique blend of illusion and technology. His performance included untethered drones and augmented reality.
We interviewed Marco after the show, so stay tuned for an upcoming InnoMinute.
Alliance for Open Media
Sam Matheny moderated a panel for the Alliance for Open Media with speakers from Google, Netflix and Microsoft. AOM introduced AV1, which is an open and royalty-free codec for next-gen UHD video.
Ham Reception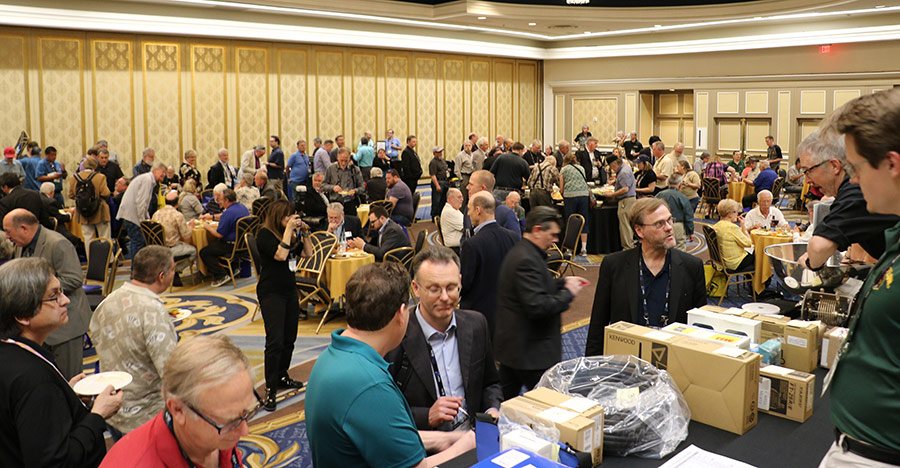 Always a favorite at the NAB Show, we wrap up our Wednesday with the 2018 Amateur Radio Operators Reception. Ham's from all over the country travel to Vegas to talk shop and try to win some great prizes.
Finally, we want to say a huge thanks to our interns from Baylor University FDM