We're just a few weeks away from kicking off the NAB Show again in Las Vegas and the excitement is building. We're all excited to connect with the people that make up the NAB Show community, and we've outlined some of specific things the NAB Technology staff is looking forward to April 23-27 in Las Vegas.
---
Our annual PILOT Dinner is a tradition I've missed, and I'm excited to share a table once again at Piero's with old and new friends from our PILOT companies and the NAB digital officer committee. It'll be a great honor to see the NEXTGEN TV app that Howard University students Sulaiman Bastien and Mikaela Mosley developed as part of the inaugural PILOT NEXTGEN TV Fellowship with support from AWS. They'll be demonstrating their app in the PILOT booth and talking about their experience in the Connect Experiential Zone at 3 p.m. on Monday, April 25. I'm also looking forward to honoring and celebrating Jeremy Sinon, Pete Sockett, and Ashruf El-Dinary, the NAB Digital Leadership and Engineering Achievement Award winners.
John Clark, executive director, PILOT
---
The three things I'm most looking forward to seeing at the NAB Show are the 3.0 things, meaning the ATSC 3.0 things. Momentum in the industry for NEXTGEN TV from the consumer electronics, broadcaster and professional equipment sides has been building significantly since the last in-person NAB Show was held in 2019, so the increased ATSC 3.0 physical presence throughout the conferences and the exhibit halls should be quite noticeable. And because even software-in-the-cloud looks better in person than in virtual space, this real-world manifestation of the future of broadcasting should make quite an eye (and ear and nose and finger and mouth) opening impression.
Lynn Claudy, senior vice president, Technology
---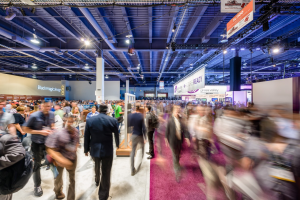 I am very excited about returning to Las Vegas and the NAB Show!  This first face-to-face NAB Show since 2019 promises to be one to remember and is full of great exhibitors, amazing content and opportunities for networking. A big part of the Show is taking place in the new West Hall of the Las Vegas Convention Center which by all accounts is an amazing addition. I can't wait to see it!
On top of my Show list is the 2022 NAB Broadcast Engineering and Information Technology (BEIT) Conference which runs from Saturday to Tuesday.  Be sure to catch the latest presentation from all-digital AM pioneers Dave Kolesar (Hubbard Radio) and Mike Raide (Xperi), Exploring the Effects of Directional Antenna Pattern Bandwidth upon MA3 Transmissions, on Tuesday at 1:15 PM in room W307-309.
I tend to gravitate to the radio stuff at the show (as I am the radio guy in NAB's Technology department) and in addition to great content, there are a number of radio-oriented receptions to look out for: Small Medium Market Radio Forum reception (Saturday, 5 – 6 p.m., for attendees of the Forum), Radio Happy Hour (Monday, 3:30 – 5:30 p.m. in the NAB networking lounge), and the always-popular Amateur Radio Operators reception (Tuesday, 6 – 8 p.m. in room W303).
David Layer, vice president, Advanced Engineering
---
I'm looking forward to seeing so many friends and colleagues after a long hiatus. Virtually every phone call I have in my normal course of business these days seems to have someone on the other end that is almost giddy as they talk about how excited they are to be going to NAB Show this year. The energy is very real and positive.
It'll be interesting to see the drone demonstration in the LVCC Silver Lot where ATSC 3.0 will be used to deliver real time kinematics (RTK) data that makes flying drones extremely accurate when compared to traditional GPS alone. This is a fun use case that highlights datacasting opportunities in all sorts of transportation, from agriculture to smart cities.
And it's always an honor to celebrate our technology and digital leaders at NAB Show.
Sam Matheny, chief technology officer and executive vice president, Technology
---
I'm looking forward to seeing the promise of NEXTGEN TV come to life at the ATSC booth in the Future of Delivery pavilion in the West Hall (W9022), along with a variety of broadcast TV apps that will be live in the PILOT booth (W5730). I'm also excited to hear the five startups and innovators who won the 2021 and 2022 Innovation Challenge competitions talk about how they are helping broadcasters be more effective and more efficient in the Connect Experiential Zone (W6428), Sunday at 3 p.m., (BEAM Dynamics and Spalk), Monday at 11:30 a.m. (Northeastern University), and Tuesday at 11:30 a.m. (Michigan Radio and Townsquare Digital). And of course, it'll be a lot of fun seeing Jim Gaffigan on the Main Stage in the North Hall Monday at 4:15 p.m.
Alison Neplokh, vice president, Innovation and Strategy
---
It'll be great to reconnect in person with folks from around the country whom I haven't seen in over two years. I expect that there will be lots of interest around NEXTGEN TV, but I want to hear questions and concerns that could hold the industry back. I can hardly wait to give away cool stuff at the ham radio reception.
Bob Weller, vice president, Spectrum Policy