The NAB Labs team was out in full force at this years CES to find the latest innovations applicable to the future of broadcasting. The following highlights some of the standout technology from the show.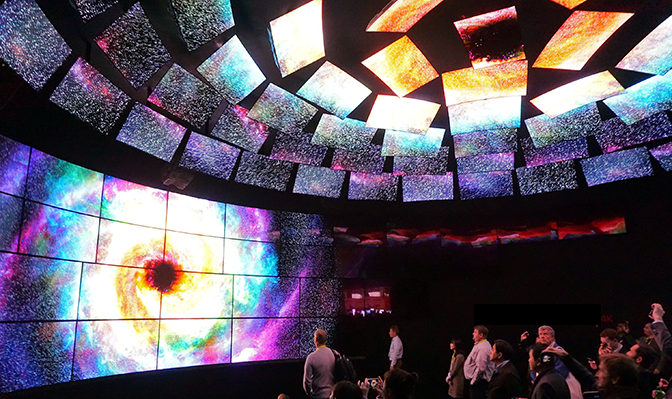 LG's demo used the KHMP facility on Channel 18 while Samsung, working with ONE Media, Pearl TV, Sinclair Broadcast and Teamcast, showed broadcasts transmitted on channel 45. An excellent validation for the practicality of the emerging ATSC 3.0 broadcast standard, momentum is building for more and advanced ATSC 3.0 demos at the NAB Show in April.
Real-time ATSC 3.0 broadcasts of 4K HDR images from transmitters over a dozen miles away on Black Mountain to TV sets in the Samsung and LG booths offered a first glimpse for CES attendees of broadcasting's future.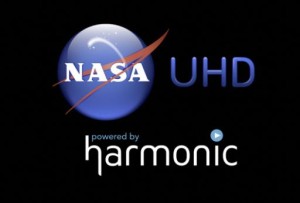 Let there be light… and dark! High Dynamic Range was featured in virtually every TV manufacturer's booth, with just as high a profile as 4K Ultra HDTV, which was also featured in every TV manufacturer's booth (it seems like HDTV is becoming the new SDTV). Lots of HDR-sourced 4K content was on display, but perhaps none more effective than the clips shown for the new NASA UHD channel, in partnership with Harmonic, and featured on LGE's OLED 4K TV sets. Remember being cautioned as a kid not to look directly at the sun? And the visceral feeling of experiencing total blackness in an underground cavern tour? Both the sensory overload of the blinding power of the sun and the sensory deprivation of the pure blackness of the vast expanse of space were prominent in the NASA footage and made a convincing case for the value that HDR brings to the table for the next generation of television viewing. If the overall television industry can just get some relatively quick consensus on the somewhat confusing HDR standards situation, HDR will be a real winner for new broadcast services and consumer attraction to those services.
Drones were a big buzz at the 2016 CES. Many companies exhibited drones ranging in size from ones that will fit in your pocket to ones that will carry heavy loads such as cinema cameras. Chinese company EHang even displayed this human size drone (see picture below) designed to carry one person on a preprogrammed course – unlikely to be available anytime soon!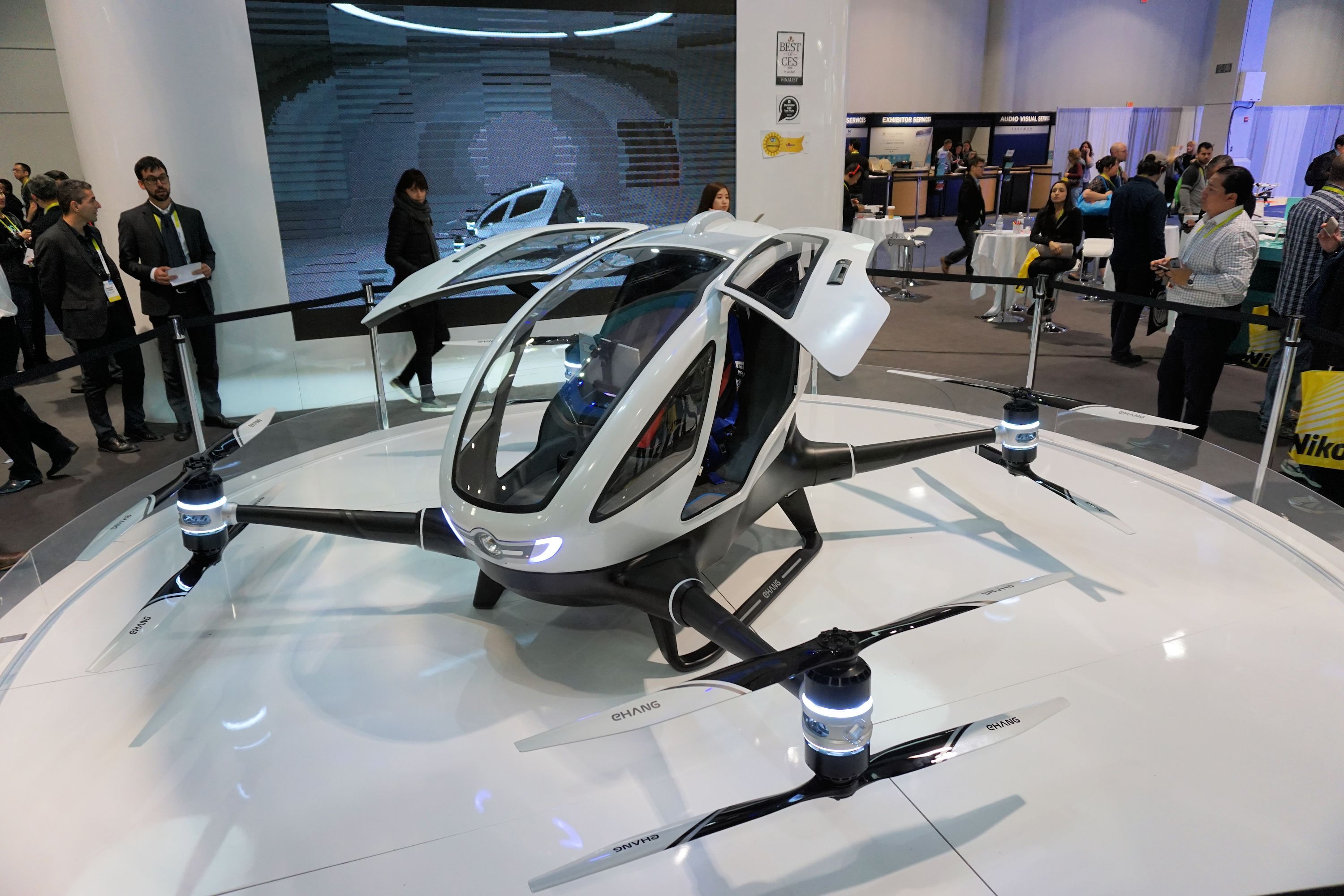 Relevant to the broadcast industry, this year's CES included dozens of companies with drone products being marketed with broadcast/media applications in mind. Many products were small enough to be deployed easily by a field reporter needing a top level view of a news event. It's important to note that the FAA had a number of staff present in the "drone" area on the CES show floor. Broadcasters interested in adding drones to their news-gathering teams should check directly with the FAA on current requirements for their use
.
Another interesting bit on display in the Sands exhibit area was Tablo, a next-generation digital video recorder (DVR) that plugs into an over-the-air antenna to capture free, local HDTV broadcast programs within the US and Canada. Unlike traditional DVRs that are connected to one TV, Tablo connects to a home network using WiFi or Ethernet to stream content to any connected device inside the home or anywhere the user has access to the Internet.
Shown in the photo below is the Tablo exhibit space and in the inset, a box for the Tablo DVR device which is available in a 2-tuner ($220) or 4-tuner ($300) configuration. To use the Tablo DVR the following things are needed (see block diagram below): an HDTV antenna, an Internet connection, a USB hard drive (this is required both for watching live TV and recording programming), and an iPad running Apple iOS7+ or an Android tablet running Android 4.1+ or a computer/smartphone running the chrome browser. Additionally, for watching programming on a TV, a Roku, or Amazon Fire TV, or Android TV, or AppleTV (which uses AirPlay from an iPad), or Chromecast dongle (casting from an Android device or Chrome browser) is required. There is also available a Tablo web app that can be used with an HDMI-enabled computer connected to a TV.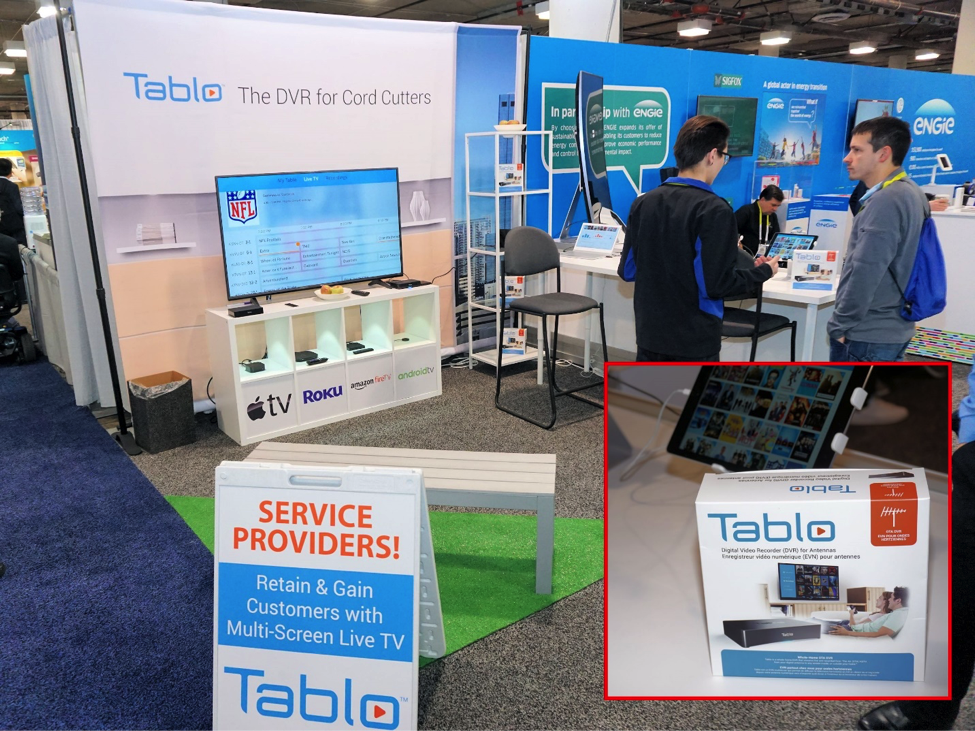 The Tablo DVR can be used with or without a subscription. Without a subscription, the user has access to one day's worth of TV guide data and a manual mode that enables access to basic recording and live TV functionality. With a subscription, the user has access to a guide data service providing cover art, episode and series synopses and metadata that makes it easy to discover content by genre and set recordings through the various Tablo apps. Subscription users also have access to out-of-home streaming through the Tablo Connect feature. Three subscription plans are available – monthly ($4.99), yearly ($49.99) or lifetime ($149.99). For more information visit the Tablo web page at www.tablotv.com.
KDX showed a 3D display technology that does not require glasses and which operates in two modes. The first mode is multi-viewing, which displayed a 3D image on flat-screen TV. The other mode, single viewing, is more interesting. KDX showed a device, seen on top of the TV in the picture, which can track eye movement of the viewer. The eye movement information is then used by the hardware and software to optimize the 3D viewing experience of the single viewer. KDX claims that the 3D experience in single viewer mode provides better picture with less fatigue.
3D printing was also big this year. The Sands exhibit area showed many applications of 3D printers with different types of material; toys, robots, models and much more was quite abundant on the floor. One company even showed 3D printed dresses with plastic-like material.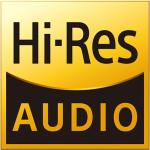 There was a significant increase in the number of "Hi-Res" audio devices being shown on the exhibit floor at this year's CES including, for the first time, aftermarket auto receivers. According to the Consumer Technology Association (CTA, formerly CEA) Hi-Res audio is defined as "lossless audio that is capable of reproducing the full range of sound from recordings that have been mastered from better than CD quality music sources." Typically, Hi-Res downloads are a minimum of 96-kHz/24-bit, with 192-kHz/24-bit becoming increasingly popular.
One aftermarket unit, the in-car high-resolution audio player model DF916L (shown in photo below) from Dual Electronics, was named a CES 2016 Innovation Awards Honoree.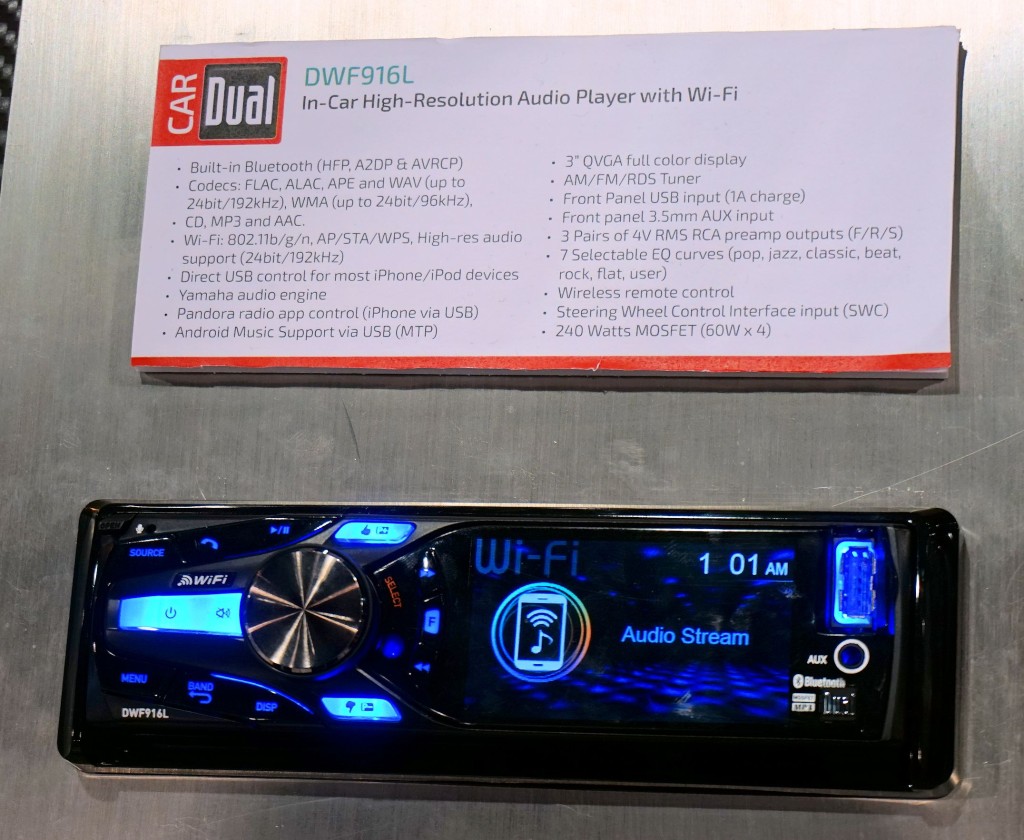 According to Dual, the DWF916L is the world's first in-car head unit that allows playback of lossless music files streamed from a smartphone over WiFi. The player supports FLAC, ALAC, APE and WAV high-resolution audio files, up to 24bit/192 kHz. It also supports DLNA, allowing it to stream audio from other DLNA compatible devices including tablets and laptops. In addition, the DWF916L features a proprietary up-sampling algorithm to convert 16-bit audio streamed from a smartphone over WiFi to 24bit audio.
Other features include built-in Bluetooth technology, direct USB control for iPod/iPhone devices, MTP for Android devices connected via USB, control for the Pandora app on an iPhone connected via USB, a large 3″ full-color LCD, 3 pairs of 4V preamp outputs and 7 preset EQs. The DWF916L is expected to ship in late Spring 2016, at $499 MSRP.
Another interesting (if not anachronistic) new Hi-Res device on display at CES, in the Sony booth, was the PX-HX500 Stereo Turntable System (shown in the photo below).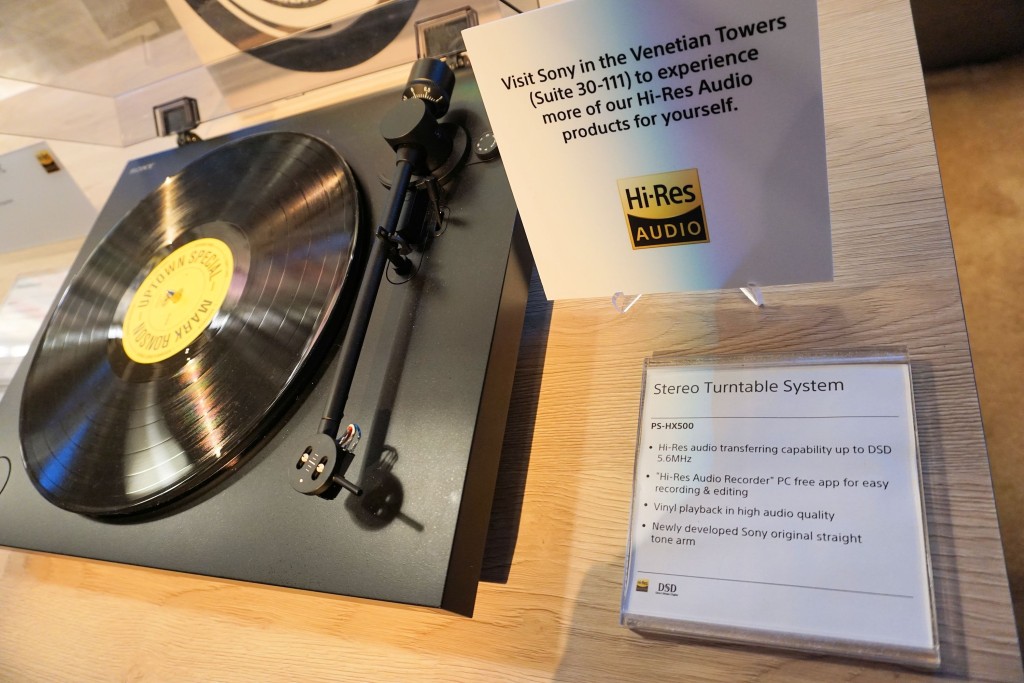 The PX-HX500 is a newly developed Sony original straight tone arm turntable which has the ability to transfer vinyl recordings using Hi-Res audio formats up to Direct Stream Digital (DSD) 5.6 MHz. The DSD format, co-developed by Sony and Philips, offers a new way of capturing and playing back audio. According to Sony, unlike the conventional PCM format, a 1-bit DSD audio stream more closely represents the nature of an analog audio waveform, resulting is all the advantages of digital audio, including a frequency response in excess of 100 kHz, and ample dynamic range, but with the natural sound of an analog recording.
The PX-HX500 comes with a "Hi-Res Audio Recorder " computer app for PCs, to support recording and editing of the Hi-Res audio files captured using this turntable.
Several online music stores specialize in offering a variety of hi-res music today, including HDtracks.com,SuperHiRez.com, iTrax, and Neil Young's Ponomusic.com music store. To learn more about Hi-res audio, check out the on-line "Hi-res Audio Guide" published by CTA and Sound and Vision magazine.
The 2016 CES marked the first time the HD Radio brand was exhibited at CES under the new DTS ownership. The DTS Neural Audio surround sound technology was being demonstrated on a local Las Vegas station, UNLV's KUNV, 91.5 MHz, on an HD2 multicast signal using 64 kbps, and being demonstrated on the OEM receiver in a new Honda Pilot (one of five vehicles with OEM HD Radio receivers on display in the booth, see photo below) which includes a Neural Audio surround sound decoder (during this demo, KUNV's main channel audio was operated at 32 kbps).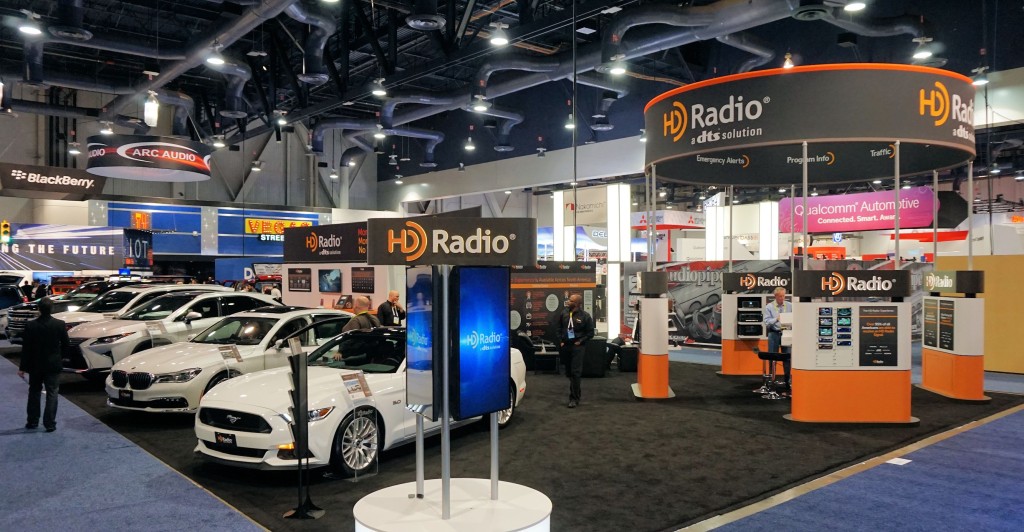 Also on prominent display in the HD Radio booth was DTS's HD Radio Monitoring and Reporting System, now live in the top 26 US markets with the remaining markets in the top 50 scheduled for coverage in 2016. DTS is developing this system to support monitoring and reporting of HD Radio station parameters including time and level alignment, proper usage of program information and HD2/HD3/HD4 audio services, as well as advanced data services such as Artist Experience and road traffic.

The booth kiosk with the Monitoring System display is shown in the photo above (at left), and at right in the photo is a portion of the summary screen for a single market (Charlotte-Gastonia, market #24). Information on this summary screen includes analog and digital signal strength, time and level alignment quality (red for problem signals, where alignment is off by more than 800 audio samples; yellow for alignment between 400 and 800 samples, and green for alignment that is within 400 samples), and overall health indicators for HD1 through HD4 digital audio channels.
This information is collected by monitoring stations that DTS has set up in each market which are all connected (via the Internet) to a DTS centralized data analytics platform. At CES, DTS met with the NAB Radio Technology Committee to update NAB on the status of the Monitoring System rollout and to seek input from NAB on how this data can be most effectively and efficiently shared with broadcasters so as to improve the overall health of the HD Radio system in those markets which are being monitored.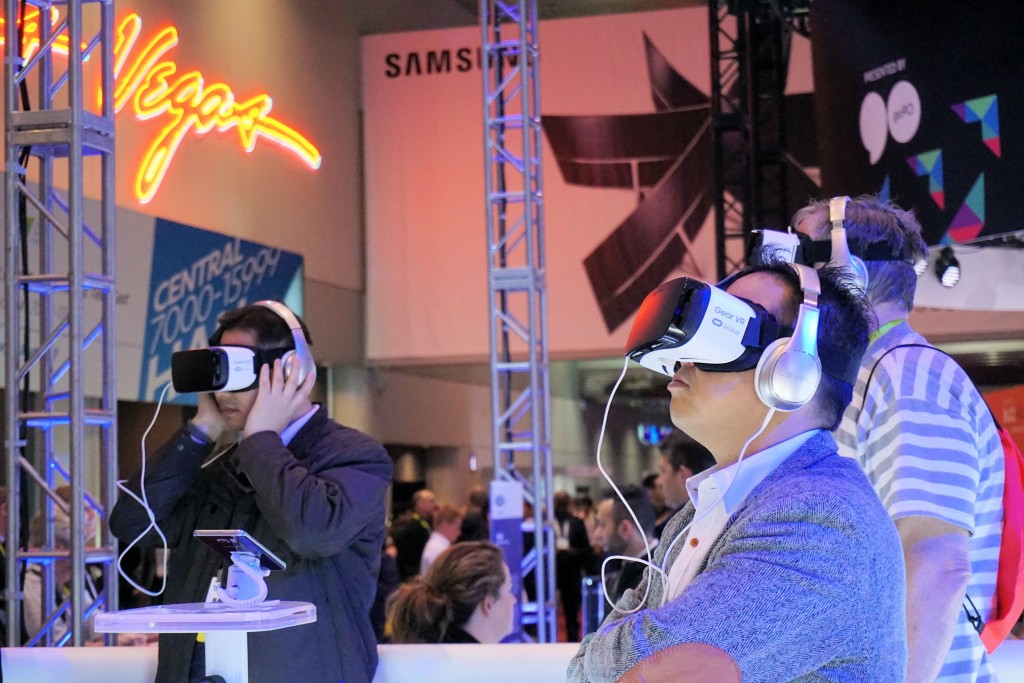 Lastly, Virtual Reality is at the cutting edge of content delivery and many vendors were demonstrating their latest offerings. A couple of the systems stood out from the crowd. The HTC Vive Pre has a forward looking camera, which allows the user to see where they are going while using the system.
The other one that stuck out was the Avegant Glyph, this was probably the most unique of the systems on display. The Glyph looks like a set of headphones with the display on the underside of the headband (see picture below). Instead of staring into a display, the Glyph uses tiny mirrors to direct the video directly to the retina, which reduces eye fatigue.