CES was a well-run virtual event that brought together a global audience to discuss, share, and explore new and emerging technologies, including Next Gen TV.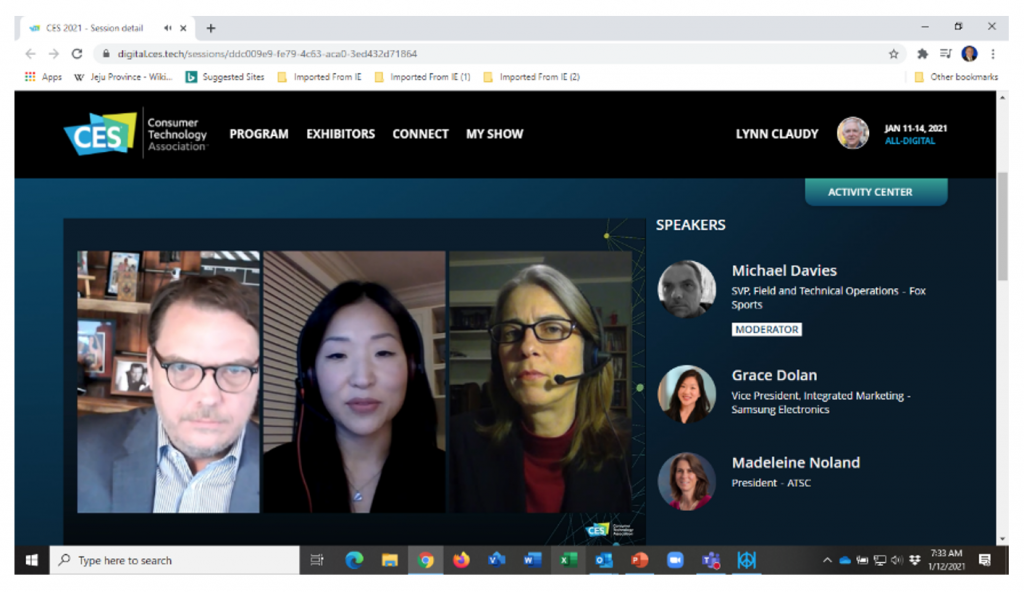 On the programming side, "Next Generation Television in Focus," took place on January 12.  The panel featured Michael Davies from Fox Sports as moderator, with Grace Dolan from Samsung and Madeleine Noland from ATSC. They covered a wide range of topics directly and indirectly related to Next Gen TV: characteristics of immersive video and audio attractive to consumers, 8K TV upscaling capability, broadcast/broadband convergence and the capability of customized viewing experiences, impact of the pandemic on the Next Gen TV rollout and TV viewing, gaming and even the possibility of sports betting applications on TV sets (some hesitation was noticeable on that last subject). The session is available for on-demand playback to CES registrants until February 15.

The Advanced Television Systems Committee (ATSC) also offered two excellent livestream panels on the ATSC 3.0 rollout and the application of distance learning, respectively, on the evening of January 12, as shown below.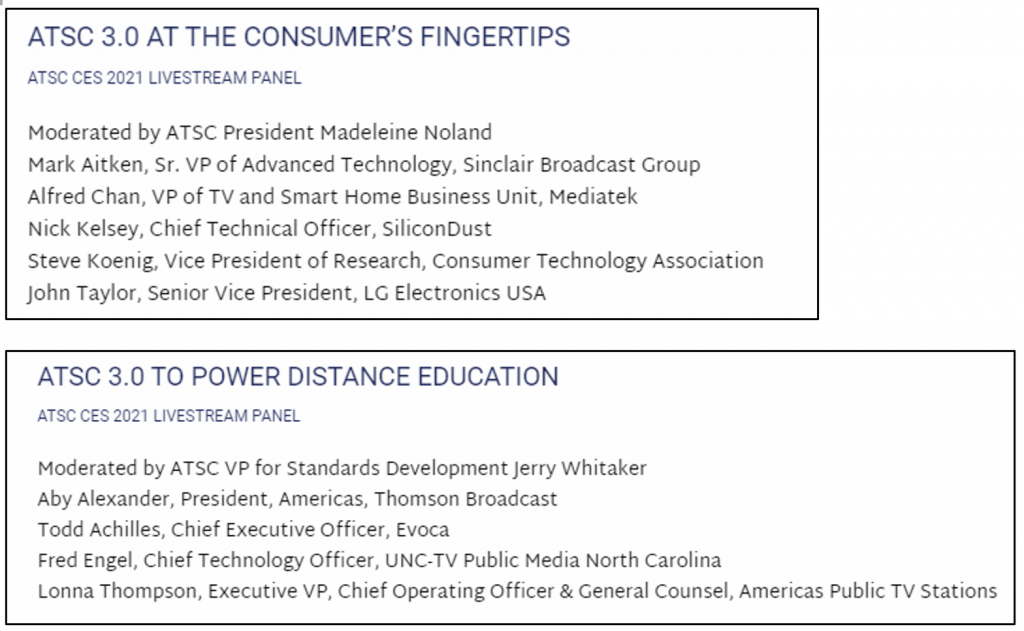 Of particular interest in the ATSC consumer session was a presentation by Steve Koenig, Vice President of Research at the Consumer Technology Association, which included CTA's first forecast of Next Gen TV set sales between 2020 and 2024. The chart below is based on his forecast numbers for sales by year, and shows cumulative sales based on those numbers, as well as a computed trendline that extends to year 2026. The first thing to note in the CTA projection is that sales are expected to increase significantly beginning in 2022. Also of note is that if the trendline projection holds true, cumulative sets in the marketplace by the end of 2026 would approximately double to around 50 million units compared to 2024.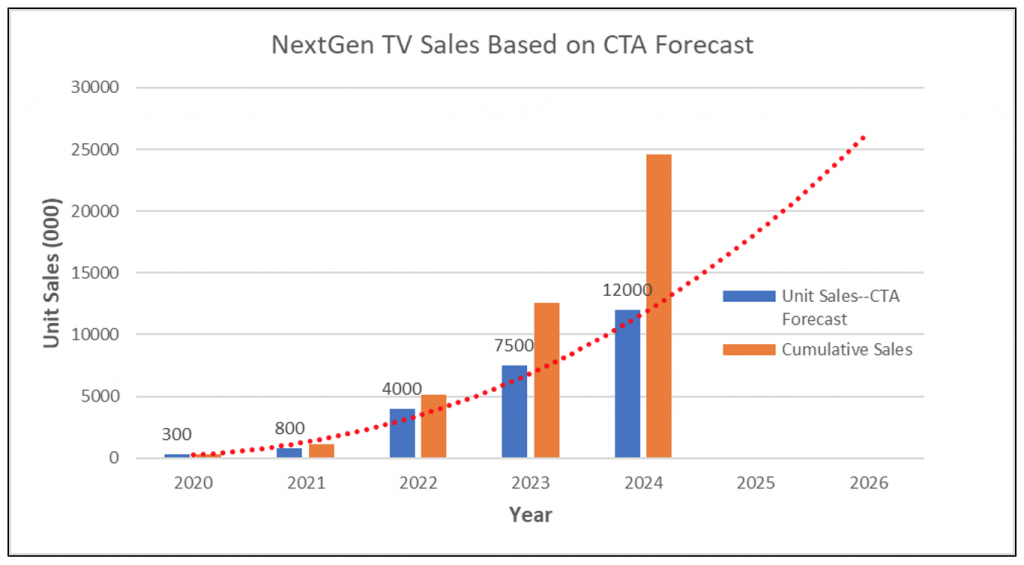 Normally, on the show floor at the in-person CES held annually in Las Vegas, television sets are one of, if not the most prominent exhibits in the exhibit halls because the sets are big, bright, beautiful and invariably draw even the most casual exhibit hall wanderer into their you-just-can't-help-yourself demonstration orbit. It's a little different in a virtual venue, but televisions were still front and center at the digital-only CES this year.
Recalling that there were about 20 model/size combinations of ATSC 3.0-capable sets (i.e, NEXTGEN TV) announced at the 2020 CES by LG, Samsung and Sony, here's what those manufacturers announced with respect to NEXTGEN TV at this year's CES:

The new 4K G1 series (successor to the GX series), available in 55″, 65″ and 77″ screen sizes, features NEXTGEN TV capability and LG's new OLED evo display technology, which is purportedly brighter than previous OLEDs. The Z1 series is not yet identified on the LG website but is described in the LG CES press release as a line of new 8K TV models supporting NEXTGEN TV. More info has been noted in other websites, citing the 77″ and 88″ screen sizes for the Z1 8K models, as well as their inclusion of an ATSC 3.0 tuner.

As a pleasant surprise, ALL of the new Sony TV models listed below will be NEXTGEN TV capable. Sony announced the Sony Bravia XR series, billed as "the world's first cognitive TV." In their press release they describe several product lines, with screen diagonal sizes from 50″ to 100″:
MASTER Series Z9J (85″ and 75″ diag.) 8K LED TV
MASTER Series A90J (83″, 65″ and 55″ diag.) OLED TV
A80J (77″, 65″ and 55″ diag.) OLED TV
X95J (85″, 75″ and 65″ diag.) 4K LED TV
X92 (100″ diag.) 4K LED TV
X90J (75″, 65″, 55″ and 50″ diag.) 4K LED TV

At the 2020 CES, Samsung announced that their full line of 8K TVs would all have NEXTGEN TV capability. At the 2021 CES Samsung representatives on panels spoke fondly about fully supporting NextGen TV and a number of new TV models were announced, but none were explicitly announced by Samsung with NEXTGEN TV, 8K or otherwise.  In fairness, CES announcements tend to be big picture announcements (pardon the pun) so the details on a feature such as NEXTGEN TV may come closer to actual retail availability. Nonetheless, the omission seems somewhat strange for a company so supportive of the Next Gen TV transition.
Other NEXTGEN TV Announcements
At least one ATSC 3.0 set top box was talked about in the virtual hallways—The Zapper Box from developer BitRouter, which has been taking orders since last Spring, is now expected to be available for shipping in the second quarter of 2021. At a compact size of  5¼ in x 5¼ in x 1⅛ in, the Zapper Box has an initial retail price of $249.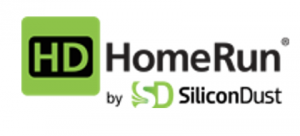 In addition, while not an exhibitor at this year's CES, manufacturer SiliconDust developed an ATSC 3.0 version of its HD HomeRun gateway box last year, originally as a Kickstarter project. The HD HomeRun CONNECT 4K HDHR5-4K includes two ATSC 3.0 tuners (and two ATSC 1.0 tuners) and connects to the TV via WiFi or wired Ethernet, instead of a wired HDMI connection, and is priced at $199.99. LG announced at CES that it has integrated the HD HomeRun app into its new WebOS 6.0 smart TV platform available on all its 2021 smart TV models, making ATSC 3.0 signals available to a wider line of LG TVs.

One final note: I understand that virtual events are different than in-person events.  However, I would have appreciated seeing more of the NEXTGEN TV logo at the virtual CES event.
The NEXTGEN TV logo was announced well over a year ago, with the intent of providing an easily recognized name and visual indication of TV sets that support ATSC 3.0. CTA President Gary Shapiro said in the September 2019 press release that "with this logo, consumers can easily tell which devices deliver the upgrades and interactivity NEXTGEN TV can provide." That's a critical point, since NextGen TV is an entirely voluntary program for both broadcasters and manufacturers–consumers need to easily know what they're buying. I suspect that those who have been reading this blog cannot recall from memory the TV set model numbers identified above that can receive NextGen TV. The logo is important for consumers. Promotional programs are now beginning in the markets when NextGen TV service has been launched and hopefully the logo will be prominently featured on products at point of sale in retail establishments and on manufacturer websites in the future.