Wednesday, February 28, 2018, 2 – 3 p.m. E.T.
While the promise of 360 video and virtual reality remains a question, high profile deals and investment continues in both the gaming and the narrative storytelling arenas. Just last month the project Spheres: Song of Spacetime became the first VR movie to secure a seven-figure deal with a distributor. The central question of what opportunities exist for general media is one that needs more research and exploration.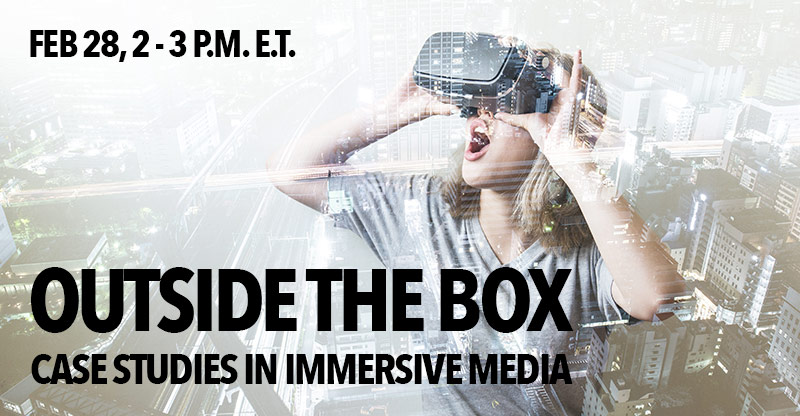 Outside the Box: Case Studies in Immersive Media looks at the early efforts our peers are making to understand and monetize 360 video. Stations have begun adding 360 video to their apps and websites. We'll explore how this impacts audience engagement as well as opportunities for monetization.
This webcast will also provide you tools to help you and your team experiment in this exciting new space.
Outside the Box: Case Studies in Immersive Media is the first in a quarterly series of webcasts on Digital Frontiers intended to keep you informed about new opportunities in digital.
Our Panel Includes:
Chris Finch, Executive Producer, WVUE Fox 8
David Holtman, Managing Director, R&D Design
Kortnie Horazdovsky, Multimedia Content Manager, KTUU Channel 2 News
Matt Mrozinski, Director of Photojournalism, KING 5 Media Group
Ray Soto, Director of Emerging Technologies, USA TODAY
John Clark, Executive Director, PILOT (moderator)
More panelists to be announced