This GPS-enabled technology is being used with ABC7's news helicopter to heighten previously flat subject matters for viewers.
The first time Rob Elmore, vice president of news at Los Angeles-based KABC-TV, truly understood how important ABC's SkyMap technology was — not just as a news director but as a homeowner and viewer — was during the Woolsey Fire in Los Angeles in November 2018. Elmore lives in an area that was directly impacted by the fire, which started in the Simi Hills. And it was the photos captured from ABC7's news helicopter Air7HD using SkyMap technology, which layers street names and lines over aerial shots, that showed exactly how close the fire was to Elmore's neighborhood and home.
"We could look out our window and see the fire, but I watched ABC7 to see just how close it was," Elmore said. "Especially at night when it's a very smoky situation, a map overlay shows exactly where this is happening, when, previous to this system, you really couldn't tell. … It is a huge viewer benefit." 
SkyMap, which debuted in early 2017, is used in conjunction with ABC7's news helicopter, and provides real-time mapping using a GPS that's integrated in the camera. It was originally used by law enforcement, and ABC7 is the first broadcast television station in Los Angeles to use it in a helicopter. Instead of seeing traffic on the freeway like one does in a typical traffic report, this technology allows viewers to see freeway signs and lines indicating what exits are coming up and which side streets are being impacted.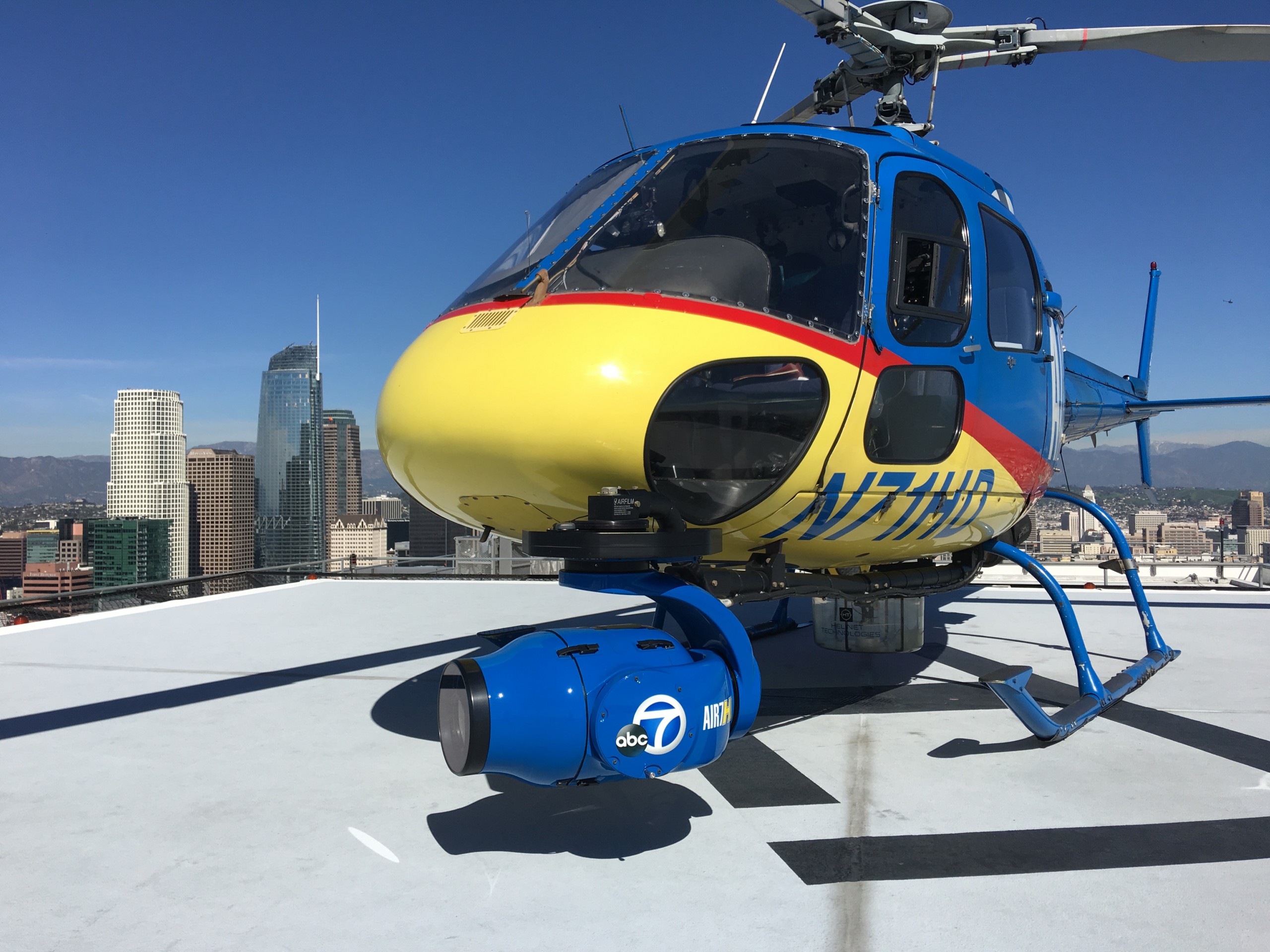 One of the things ABC7 is focused on is making the local news more relevant and impactful to people. So, when the station first started thinking about implementing a technology like SkyMap, it was because it saw the need to upgrade its Air7HD. "Up until that point, aerial coverage from Los Angeles was essentially a wide shot and potentially a zoom-in on a particular incident," Elmore said, "but this technology allowed us to bring more dimension to the coverage to show exactly where the events were happening."
In the few short years it's been around, SkyMap has evolved a great deal, enabling reporters to now create real-time graphics in the helicopter that help tell the story — whether it's arrows or circles or tools to measure the distance between two points, for instance, between multiple crime scenes during a shooting. It's also allowed journalists to illustrate the speed of a moving vehicle in real time with the help of a speedometer, great for a police pursuit.
In addition to its instrumental role in documenting car chases and wildfires, SkyMap has helped elevate stories about nighttime rescues and power outages. "We've had several nights I can think of where Chris [Cristi, the evening helicopter reporter at KABC] is up over the scene of something at 11 p.m., there's a power outage and we can literally show a dark area several blocks wide below, overlaying the street maps to show which areas are out of power. Now, that's very powerful," Elmore said, adding with a chuckle, "no pun intended."
Cristi reiterated that prior to using SkyMap, covering a power outage meant showing viewers just a wide shot of a neighborhood with city blocks that are pitch black and then trying to describe it. "Now, you can actually see the number of people impacted and see whether it's residents or a commercial area," Cristi said, adding, "It's really impacted the stories we can tell, that before you weren't able to tell effectively."
The effect SkyMap has had on traffic reporting can't be overstated, either. Cristi explained, "Traditionally, in a typical traffic report, you would have maps and then you would have the helicopter shot. You now have the ability to have both at the same time — that is a real game changer." He added, "I would go so far as to say it's one of the most — if not the most — innovative technologies since the Doppler Radar was introduced to local news."