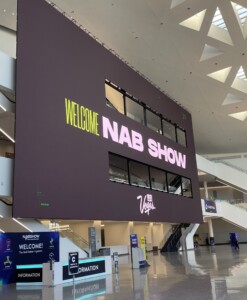 The exhibition floor opens TODAY! Lace up comfortable shoes and hit the floor starting at 10 a.m. Be sure to stop by Futures Park in the West Hall.
---
Exhibit Hall Hours
Sunday, April 16  |  10:00 a.m. – 6:00 p.m.
---
Sunday's Broadcast Engineering and IT Conference Schedule
Sunday, April 16 | 10:00 – 4:00 pm
West Hall Room W219-W221 and W216-W218
---
Driving Revenue and Insights with Connected Car Listening Data
Sunday, April 16 | 10:00 – 11:00 am
West Hall Room W213-W215
Discover how new in-vehicle listening data via Xperi's DTS AutoStage can revolutionize how you position your station to advertisers. See what data is available free to stations, learn how to leverage its power and hear directly from an advertiser and an agency on how this changes how they view radio in the media mix.
---
CTO Roundtable at the Broadcast Engineering and IT Conference
Sunday, April 16 | 3:00 – 3:30 pm
West Hall Room W216-W218
The BEIT Conference is packed with information, research and use cases for new technology. What are the tech trends and breakthroughs that today's Chief Technology Officers see as driving the biggest opportunities? In this roundtable discussion, the CTOs from Ateme, Globecast Americas and NAB will engage in a wide-ranging conversation about technologies shaping the broadcast industry.
---
Sip-and-Speak: Developing for ATSC 3.0 Through the PILOT NEXTGEN TV Fellowship at Howard University
Sunday, April 16 | 3:00 – 3:30 pm
West Hall Room W231-W232: TV and Radio HQ
Hear from the Howard University students who developed a NEXTGEN TV app through the PILOT Fellowship with support from Amazon Web Services (AWS). Alongside industry experts, the fellows gained practical, first-hand experience with NEXTGEN TV technology. The unique, eight-month program included product training, seminars and one-on-one coaching with NEXTGEN TV standard experts and AWS representatives. The fellows will demonstrate their app and discuss their process for conceptualizing and developing their idea.
---
The 4th Global Next Gen Broadcasting Conference – Co-produced by NAB and the Korea Radio Promotion Association
Sunday, April 16 | 4:00 PM – 6:00 pm
West Hall Room W223-W225
ATSC 3.0 is becoming a widely used international digital terrestrial television (DTT) standard. South Korea paved the road to ATSC 3.0 by adopting it as the nation's 2nd generation digital TV broadcasting standard in 2016 and launching 4K Ultra HD broadcasts in May 2017. In the U.S. broadcasters are working together to bring ATSC 3.0 to audiences across the country, currently deploying ATSC 3.0 broadcasts in more than 60 cities reaching over 60% of American households. Jamaica has launched ATSC 3.0 and began transmitting in January 2022, and Trinidad and Tobago will begin their DTT transition to ATSC 3.0 in 2023. India is exploring ATSC 3.0 for direct-to-mobile services and broadcast traffic overload. Brazil has selected a number of ATSC 3.0 technologies as part of its TV 3.0 project. As the ATSC 3.0 standard is becoming adopted and deployed in more regions, we will explore opportunities for collaboration among participants and discuss potential new businesses and benefits to share among the ATSC 3.0 shareholders.