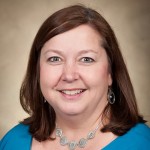 Chandra Clark, PhD, is an assistant professor at The University of Alabama. Her idea "The News Call" won third place in the inaugural competition of the NAB Pilot Innovation Challenge. She will be on the Futures Park Innovation Stage at the NAB Show in Las Vegas on Tuesday, April 25th.
On August 30, 2016, I got a simple question emailed to my inbox. It said How might local television and radio broadcasters engage their communities with next generation content on any device, whether big, small or moving? The question sent my brain spinning as I thought about the issues and problems facing my industry today. The email was from the National Association of Broadcasters for its NAB PILOT Innovation Challenge. I'm so glad I was on the email list because the results of trying to answer that question have changed my life and how I approach teaching in my college classroom.
The challenge to be innovative was not new to me. My husband and I are constantly coming up with ideas to improve logistics and issues at our workplace, but this time I could actually enter a contest which had the possibility of impacting the broadcast industry. Immediately, I started thinking about what didn't already exist that, as a news junkie, I would want at my fingertips and could be used anywhere in the world.  It didn't take long to remember my constant complaints about my morning commute where local news radio is almost non-existent. I hear a few headlines on the 45-minute commute to take my daughter to school and then to work, but it's not the news I want to hear and it's definitely not enough to keep me informed.
I don't know about anyone else, but I love the hands-free approach to phone conversations my Bluetooth offers me on my commute. I call my mom every day, and she loves that I no longer hold the phone in my hand while talking. My eyes stay on the road, and I touch one simple button to answer a call or I simply ask Siri to make a call for me. Sounds simple enough, and it's something everyone probably does a few times a day on their daily commute.
The other thing I love is my DVR at home. I pre-program 5-6 recordings a week including local newscasts because I need to keep up with what's going on in my television market. It's great to watch the "5, 6 & 10 O'Clock News" plus a little "Designated Survivor", "Chrisley Knows Best", and "Shark Tank" during my downtime. The only drawback is I have to sit in front of a screen to watch it all, and I DON'T HAVE MUCH TIME TO DO THAT! I'm a busy working mom who juggles teaching at a major university, and I'm very involved with my students, family and community.
So, here's the problem: how can I listen to what I want to hear and stay informed during that 45-minute commute each way? How can I also use something everyone has that doesn't involve more money than they already spend each month? How can you also make use of cell phone minutes which go unused and not run up someone's data plan?
My idea "The News Call": an audio DVR delivery service that calls me at a predetermined time with pre-selected news during my commute — delivering  the local newscasts I want to hear. It was a raw idea, but the more I thought about the idea and the question it was meant to answer, I started formulating a more concrete concept of how it could work and how people would use it.
After I made the top 10 out of more than 150 other ideas in the NAB Pilot Innovation Challenge, the idea was publicized and my former news colleagues and friends and I uncovered other ideas for how this could be used. For severe weather situations, mission trips, overseas trips, other programming – the list goes on and on.
If it wasn't for the challenge to think about a problem that exists for all of us, I wouldn't have had the chance to present in front of industry leaders at NAB Futures in California, and discuss how this idea could help further the mission of broadcasters. I also wouldn't have had the opportunity to talk in front of an audience at the NAB New York Show the day following the historic November 2016 election. In the days and months following, I couldn't think of a better time for an original idea such as "The News Call" to be discussed with media organizations. The public needs to be informed while they are on the go, and almost everyone is on the move with a smartphone in their hands.
If you are an avid fan of "Shark Tank" like I am, you watch people's ideas and dreams get squashed in a minute by someone like Kevin O'Leary. The NAB PILOT program gives you a different opportunity to open your eyes and think about a problem, present a solution, and help the broadcast industry realize there are more people out there who care about messages and how they are received. After making it to the top three in this national competition, I view the ideas my future broadcasters in the classroom present to me in a different light. They may be the next Mark Cuban or Chris Sacca who invents the next version of Snapchat, Instagram, or Uber. Better yet, maybe they will help Chandra Clark come up with a new idea for the next NAB Pilot Innovation Challenge in 2017.