Innovation begins with an idea. However, having an idea and putting it into action is not as simple as one might think. There is a natural progression of growth for ideas, and it's outlined by what what is referred to as the Innovation Cycle.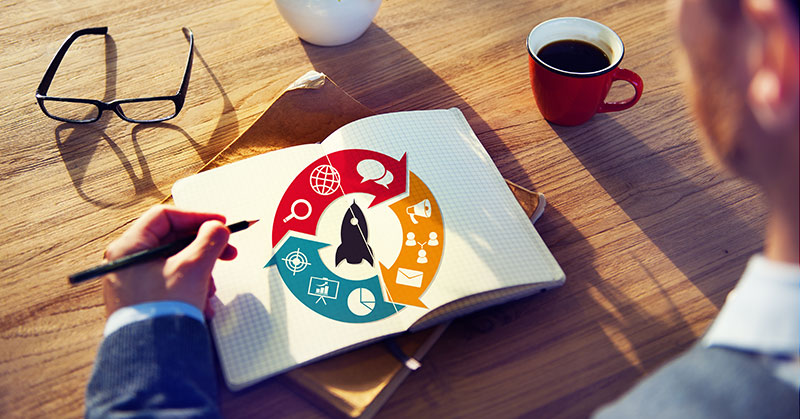 There are three steps in the Innovation Cycle: Ideation, validation, incubation and acceleration. NAB supports the cycle with a number of initiatives:
Ideation – NAB supports ideation with its annual PILOT Innovation Challenge.
Validation & Incubation – NAB has invested in and supports newly formed companies with support post-Challenge, as well as through the NAB Futures show and Futures Park at NAB Show.
Acceleration – SPROCKIT, with support from NAB, matches market ready companies in the media, entertainment and technology space to help meet pain points within media companies.
The Innovation Cycle can be a little intimidating. Below are resources to help you innovate, regardless of where you are in the process.
Ideation
Each year, the PILOT Innovation Challenge puts out a challenge question to help drive new ideas. This year, PILOT is looking for unconventional ways that broadcasters and other local media can serve their communities. Challenge winners will receive up to $30,000 to advance their idea as well as access to industry experts and a booth at the 2018 NAB Show in Las Vegas. If you think you're up to the challenge, enter your idea on the PILOT Challenge page.
If you're stuck and need inspiration, consider these tools to help:
Validation & Incubation:
To move your innovation beyond the idea stage you need to incubate and validate. In the incubation stage, you need to show off your design, and share your innovation to get feedback. NAB supports proof of concepts through space in Futures Park at NAB Show or via PILOT.
Check out these resources, if you're wondering what to do next:
LUMA Institute is one resource that will help you find the right tools to turn your ideas and innovations into reality. Take a workshop, sign up for their workplace, or just open up the discussion
You can't use a hammer to paint the walls. If you need help with design, IDEO is another resource that will help you assess creative and find areas for improvement as you move forward with ideation and creation:
Explore a startup incubator and learn what you might not in business school
Acceleration:
If you get traction and validation, you can't stop there! Now that you are ready for market, you need to drive revenue and scale. One way NAB supports this stage is through its work with media, entertainment and tech focused accelerator, SPROCKIT. SPROCKIT helps bring your creation directly to the doorsteps of major corporations like TEGNA, Univision, Fox, Google, and others.
These resources can help you accelerate your business:
Every innovation starts with an idea. What's yours? The PILOT Innovation Challenge runs through Friday, September 22. Learn more by visiting nabpilot.org/challenge today.