We launched the PILOT Innovation Challenge in June to search for ideas to accelerate broadcast innovation. We received a fantastic response, and we're really excited to announce the top ten finalists. The eventual winner will receive $20,000, expert broadcaster guidance, and exclusive access to industry events. The top three will be selected and announced October 31 at NAB Futures.
Broadcast Us is one-part online community, one-part journalism school; it's where curated news can be discussed and where everyday citizens can build up a reputation through the production of their own high-quality news.
What excites you most about your project?
Enabling people to become active participants in the events that shape their everyday lives.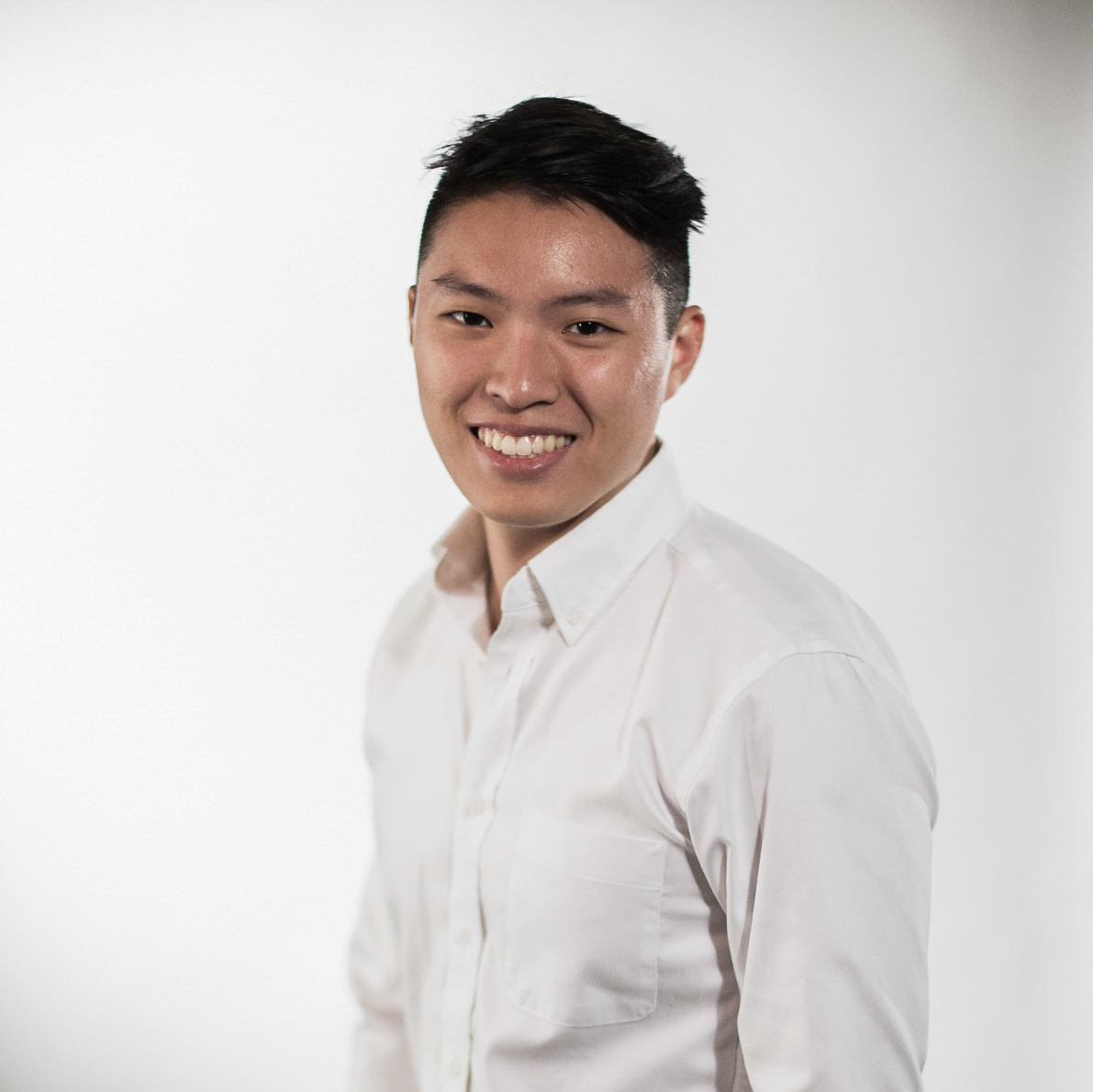 Chapters
Brett Kenyon
WJTV 12
Chapters is a project that upgrades how we stream our news content, tabulating and organizing stories in real time for a personalized viewing experience. Rather than force viewers to watch our streaming products beginning-to-end in order to find the one story they want (or make them wait for content to be posted as individual stories online), Chapters labels and categorizes stories into color-coded tabs as they stream. Viewers can jump to a specific story, or use the queue function to build their own newscast with only the stories they want to see.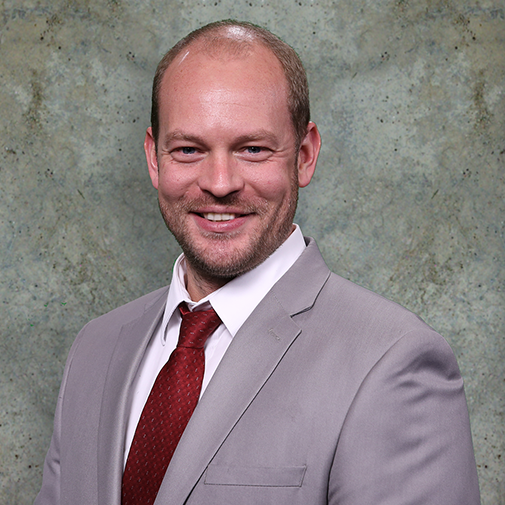 What excites you most about your project?
Chapters is something I've wanted to see since watching my first streaming newscast. I was amazed to see a full newscast unfolding on my phone but knew that the medium wasn't yet being used to its full potential. Rather than simply echoing the broadcast, a project like Chapters takes full advantage of the incredible technology we carry around in our pockets 24/7 to fully engage our users. It also gives news stations feedback on which stories are resonating the most with their viewers, which in turn can lead to better newscasts, stronger content, and a bigger impact in our DMA's. And as someone who spends all day wondering what viewers want out of a newscast, this is a dream come true.
GeoTunes
Emily Marisa Luera, Brandon Walker, Ky Cao, Reagan Healey, Ronnie Abolafia- Rosenzweig, Ryan Kraus
Texas A&M University
GeoTunes is a smartphone application which allows users to locate sources of inspiration for artists' songs. A point system will be in place which will allow users to earn more points each time they find a GeoLocation and will in turn be able to earn concert tickets with these points. Participating broadcasters will keep viewers engaged by leaking daily clues to their listeners.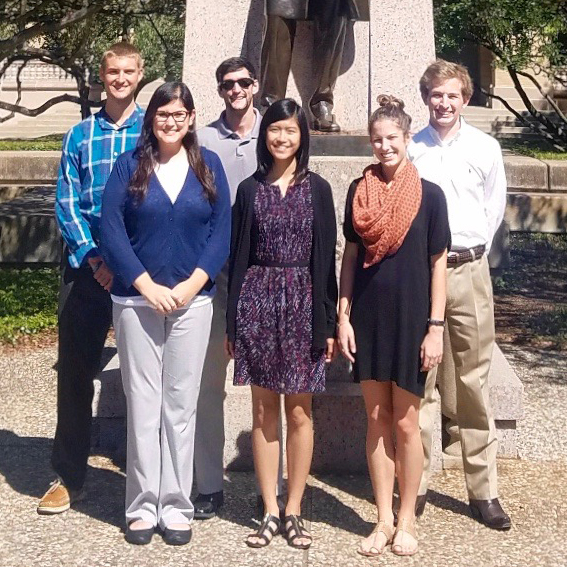 What excites you most about your project?
Reinventing the way broadcasters award concert tickets by integrating Pokemon Go and radio.
gNews
Hugh Tomasello, Rick Jenkins, Kiara Brisker, Anthony (Nino) Pinneri
University of Nevada Reno
gNews is a geolocation based local news aggregate platform that enables local communities to interact with breaking news stories in real-time through social media integration. Our platform incorporates a live news feed of all local breaking stories within the News Radius map which is fully customizable, allowing users to show/hide any local publications. Once a user is within the Social Radius of a breaking news story, a Social Radius Feed is provided, showing a multimedia live-feed consisting of videos, photos & hashtags of others interacting with the same story, incentivizing communities to personally interact with broadcasters & stations.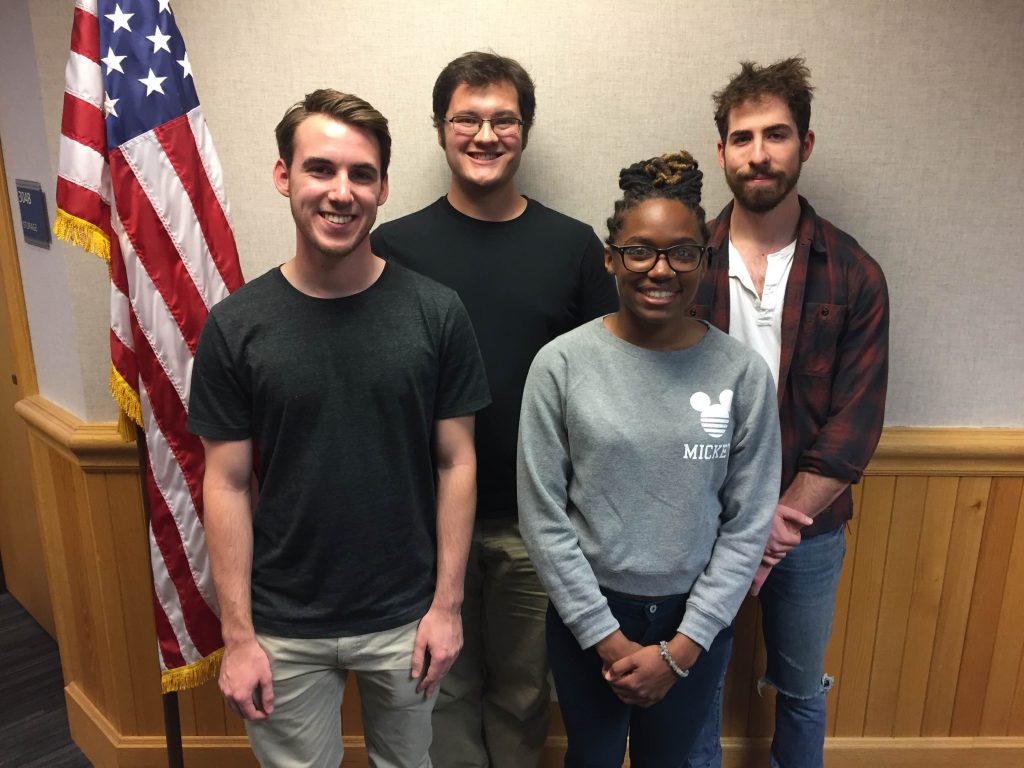 What excites you most about your project?
Our team believes that the key to delivering next-generation content to local communities is through social media interactivity and integration. Uniquely providing users with social multimedia interactivity within the platforms Social Radius dynamic is the most exciting to us, as we believe it will strongly incentivize communities to go out into their respective neighborhoods and personally interact with breaking news stories and local broadcasters on a much deeper level.
Jordan Sales, Elise Hackney, Alberta Lin, Eric Asencio, Mike Le, Claire Lohn
Texas A&M University
History GO is an app that allows the user to connect with the history of their surroundings. When opened, the app connects to the user's current location. Using AR technology, History GO supplements a person's environment with relevant facts, pictures, and videos. This app allows users to see the world through virtual eyes and connect where they are standing with where others have stood before.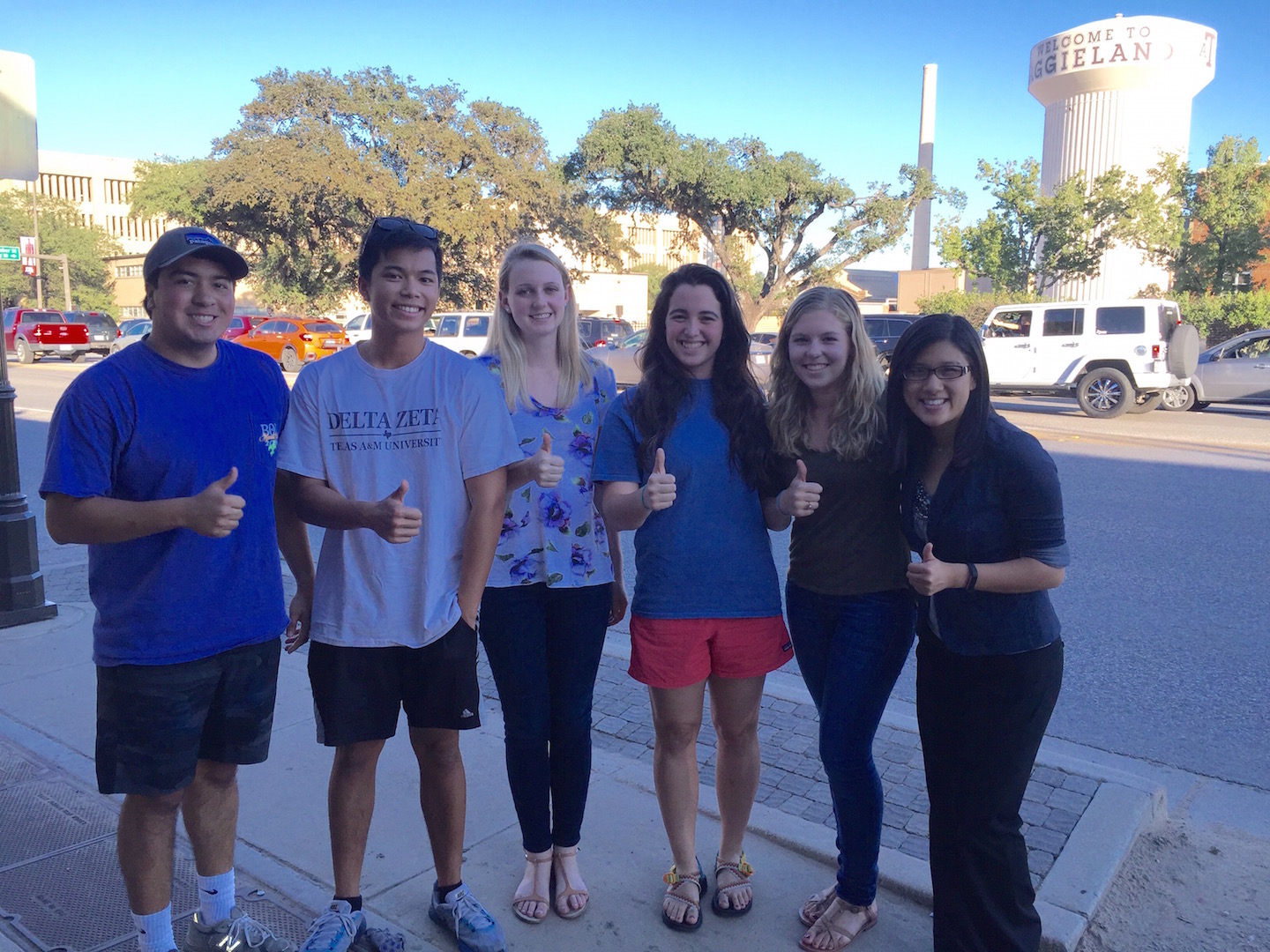 What excites you most about your project?
History GO is an exciting project because of the endless possibilities that augmented and virtual reality create. Allowing students and travelers to better experience the culture and history of their world is only one of the many benefits of emerging technology.
In Your Shoes takes audiences to the center of a person's experience. The program will document the lives of 5 characters in 5 cities. Each episode will identify and introduce sympathetic characters on two sides of a difficult and timely issue – such as a victim of police discrimination and a police officer. We'll create first-person VR content about each character alongside digital video, capturing one another's reality through 360 VR. The unique narrative each week will be the response between the two about what it was like to be in each other's shoes.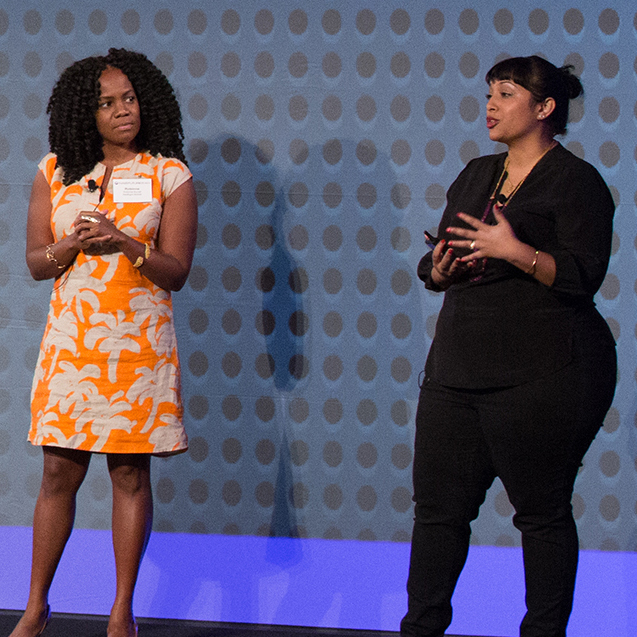 What excites you most about your project?
This series concept is not only to augment immersive storytelling, but it has the potential to be hugely powerful in addressing some of the most pressing issues of our time. It addresses a key challenge for the NAB on how to bring in new technologies and integrate with the scale of broadcast.
Story Builder
Juli James, Retha Hill, Adam Ingram-Goble
PlayableMedia
PlayableMedia's Story Builder allows journalists to quickly publish mobile newsgames to meet audiences on smart devices and engage readers using the best practices of journalism and game design. Our project pushes newsgames forward by adding location-aware features to our already simple-to-use design tool. We see broadcasters quickly building engaging newsgames for audience interaction via smartphones, notification screens, wearable devices, and home devices with touch or audio interfaces.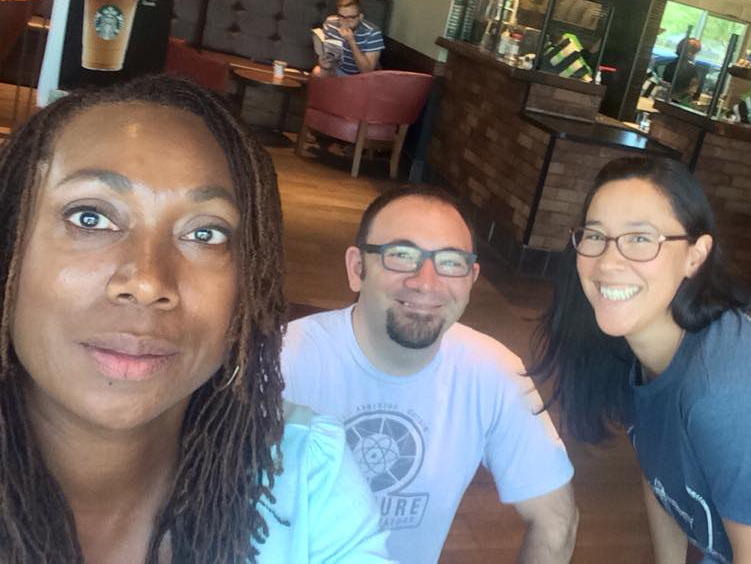 What excites you most about your project?
Our team is passionate about empowering digital storytellers with highly technical tools that are visual-oriented and useable by content creators, no coding necessary. We are excited to extend our low-cost, easy-to-use tool and work with broadcasters to build mobile newsgames as a platform for interactive connection with viewers. We already know good game design uses technology to engage audiences in local communities, and we are passionate about bringing these tools to broadcast newsrooms around the country. Games can help audiences to discover things to do locally. A game can to show people how easy it is to hack personal data, or viewers can "play" as a journalist to better understand the ethical considerations that go into a daily newscast.
Lokita: A Hyper-Local Smart Content Concierge
Mary Kate Dagit, Bruce Jacobson, Chet Dagit
RTP-Lokita Solutions
Lokita provides broadcasters with a branded Smart Content Concierge app. Uniting FM radio, TV broadcast, and on-demand clips into next-generation content, Lokita engages people while they're on the move. They stay engaged as they approach their television. Lokita knows who's engaged, and the activity mode they're in. Using hyper-local content delivery, Lokita identifies the nearby TV display, and then goes into companion app mode. The mobile screen is now paired to what's displayed on the television. Augmented reality on-the-go, and enhanced rich media emergency alerts, are just two of the next-gen content features Lokita enables.
What excites you most about your project?
Lokita enables new and powerful mobile-TV audience engagements with next-generation content. We're most excited about implementing ATSC 3.0 Advanced Emergency Alerts, and broadcasting augmented reality mobile moments.



The News Call is the phone call you don't want to miss because it's the news you want to hear. The DVR-type phone service takes away the use of touching bulky apps to get your pre-selected and pre-programmed customized news, sports, and weather information. You pre-determine the time of day you want to be called such as your morning or evening commute. Then you get a ring on your phone, answer the Bluetooth on your car and you are immediately listening to news from your hometown or your favorite reporters. There's no texting and driving and no smartphone data use.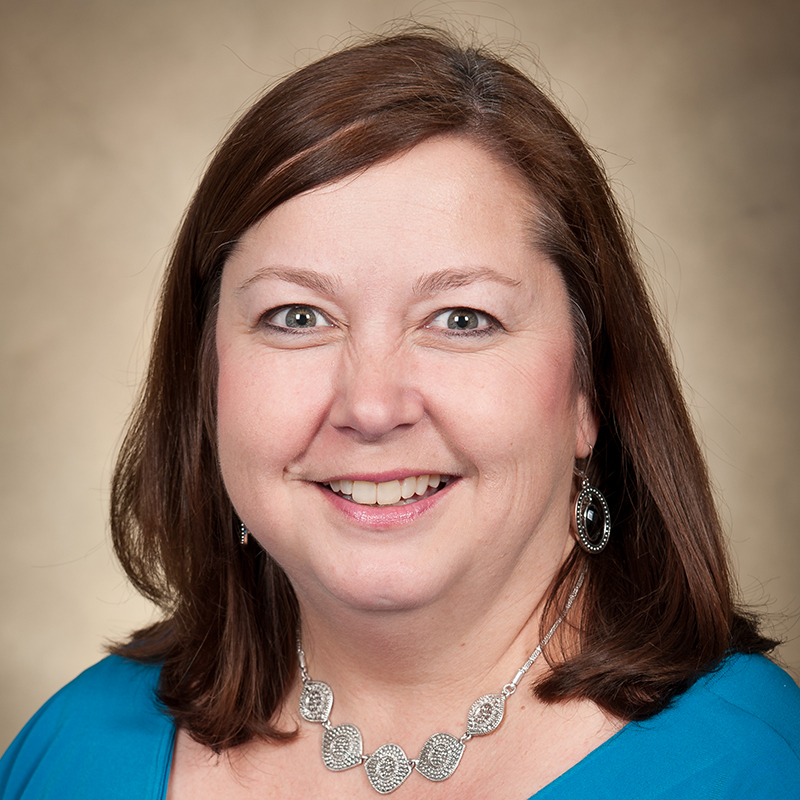 What excites you most about your project?
I can see myself using this service because I honestly crave news and information during any down time I have. I know I'm not alone in the frustration of having no say in what little news is currently delivered over the airwaves while I'm in my car. By pre-selecting and pre-programming the local and customized news I want to hear, I would be so excited that I was able to give people the opportunity and choice of what they hear during their commute. I don't like bulky news apps that force me to try to get them to work while I'm driving. I would rather have a simple phone call delivered through my smartphone that I can bluetooth right into my car. It would be like music to my ears!
10 Contestants are invited live and on the spot to engage in a battle of wits via their voice-chat, face time, Skype or other live video and answer a series of questions and compete against each other, kind of like the trivia kiosks in some restaurants. Most correct answers wins with fastest answers as tie breaker. The program uses your latest devices to put you on the tube so You Win from wherever you are. At the beach, mall, work or home, suddenly you are on a game show, almost like Cash Cab, winning prize money.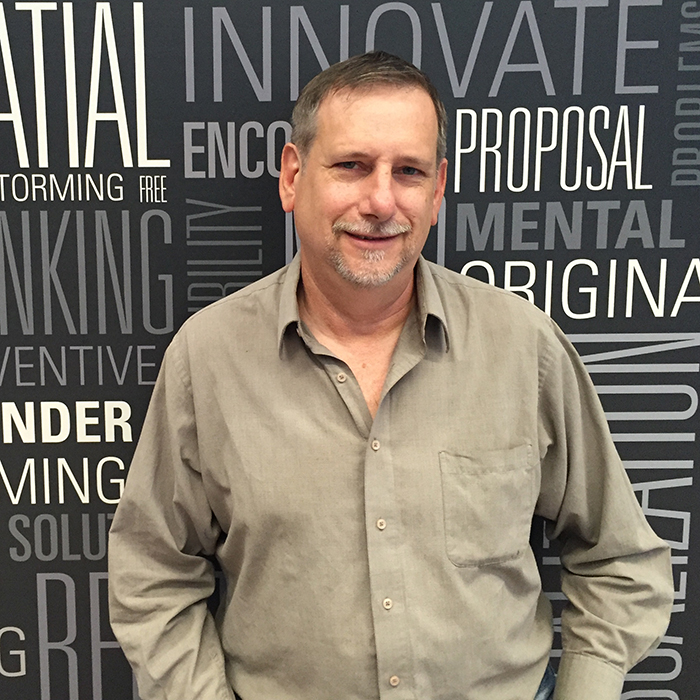 What excites you most about your project?
We have reached the point that people share live video and have technology to do it like never before. It is the cutting edge of where society is moving and we will have a chance to meet and engage with regular people in their environment and maybe even change their lives!