Westwood One's First Light morning program host spoke to Koch while she was 248 miles above Earth.
For Michael Toscano, host of First Light and news anchor at Westwood One News in Washington, D.C., the moment when he connected to astronaut Christina Koch while she was in orbit was utterly thrilling. "You find yourself on the phone with somebody saying, 'Welcome aboard the International Space Station,' which sends chills down your back," said Toscano.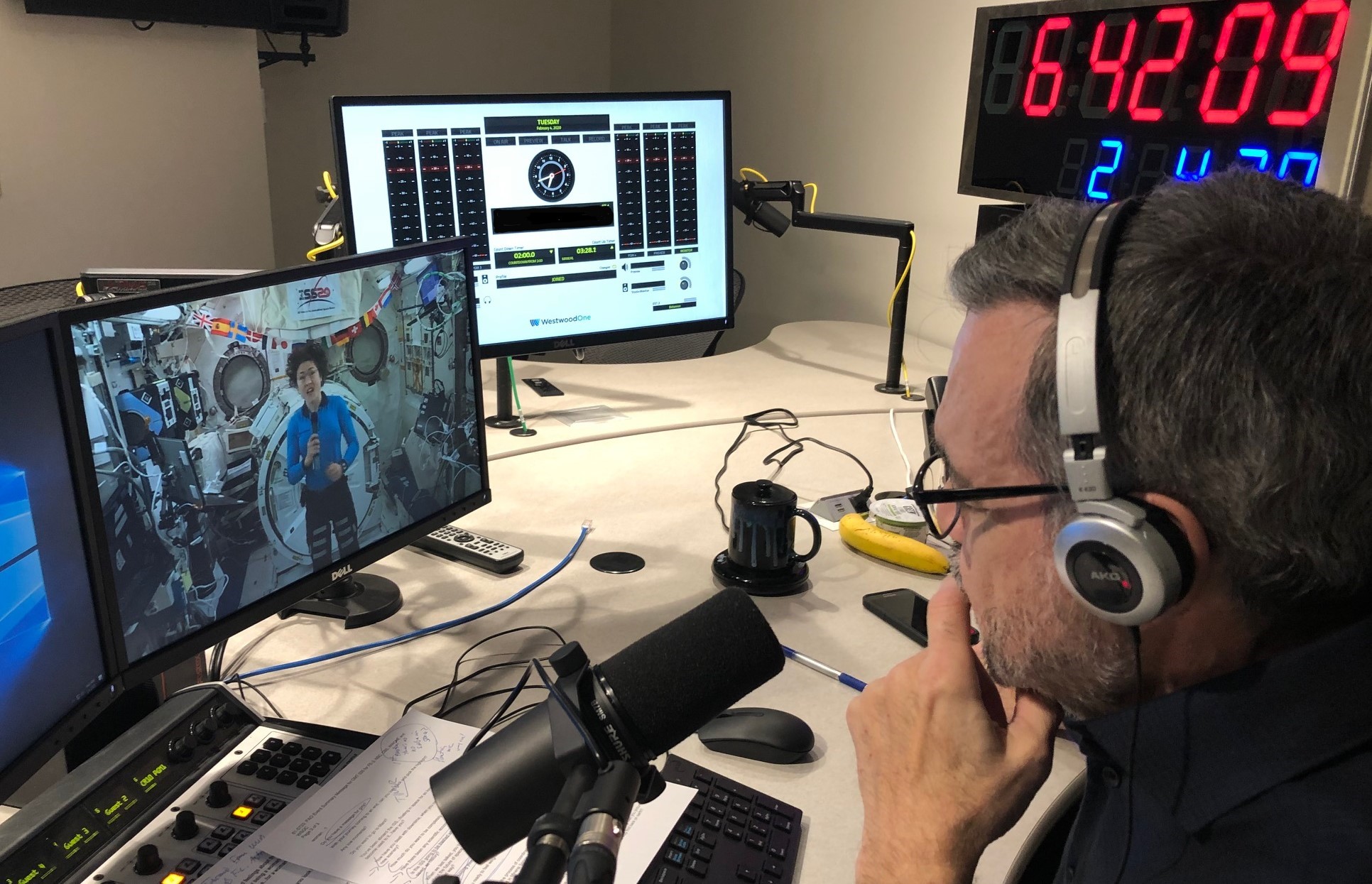 The interview took place on February 4, 2020, while Koch was still in space, just before her return to Earth. Koch, who set the record for the longest space mission by a woman, and was a part of the first team of all-female spacewalkers, was in orbit for a total of 328 days.
It wasn't Toscano's first call with Koch, or even the station's first foray into space interviews. Toscano's predecessor, Dirk Van, had spoken to astronaut Scott Kelly and cosmonaut Mikhail Kornienko during their year-long space expedition in 2015; and Toscano had his first chat with Koch, along with astronauts Anne McClain, Nick Hague and David Saint-Jacques in June 2019 ahead of the 50th anniversary of the first moon landing. "This is something Westwood One has always been thinking about," said Pat Piper, executive editor at the network. "How can we show what radio can do?"
This last call came about when, in early 2020, Toscano realized Koch would soon be returning to Earth, and he wanted to try to speak to her again before she did so. He was interested in hearing how her journey had been since their last interview. "I like to try to find something nobody else is doing," Toscano said. "I think having Christina on, it was something different, something you couldn't get any other place."
NASA readily agreed, and they used a phone line for the call, which was routed through Mission Control in Houston and then beamed up to the space station. (Mission Control sets up all communication for astronauts, including conversations with family members.) Depending on where the space station is positioned, they use different satellites to connect, and can do so for 30 or 40 minutes at a time.
The call began at 6:30 a.m. EST, which, for Koch, was 10:30 GMT, the time zone the International Space Station operates in, and they had about a 6-minute window to speak. They talked about what snack Koch was most looking forward to upon her return (chips and salsa), and the future of space exploration, among other things. While they were on the phone, the International Space Station was orbiting 248 miles above Earth at 4.7 miles per second (approximately 27,600 kilometers an hour). If you were to have looked up at the sky at the right time, you could have even seen it from Earth.
NASA live streamed the call for Toscano so he could look at Koch on the screen, which he found helpful in being able to successfully communicate. There's a bit of a delay involved when speaking, as the signal gets transmitted to space, but that gets edited out in post-production and is much more minor now than it used to be. "Now it's almost like you and I talking on the phone, and it's really cool," said Piper, who had been a producer on shows that connected to NASA's space shuttles years ago.
Toscano reiterated that the sound quality was astoundingly clear. "It was as if they were in the next room," he said. "I was actually surprised at the quality, because I can remember watching these things in years past. And hearing any other kind of transmission from space, it always sounded like a radio transmission. This was just pure high-fidelity."
Though space exploration might be a ways away from becoming a First Light beat, NASA's return to the moon is definitely on the team's radar. Toscano, in fact, thinks Koch seems poised to become the first woman on the moon. "She could become a figure in history," he said. "That's how significant she seems to me." If she is, you know who will be ready for a third phone call.