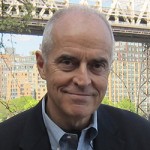 Andrew Heyward is the senior researcher for TV news at the Knight-Cronkite News Lab at Arizona State University. Andrew began his career in local news at WNEW-TV and WCBS-TV in New York, and served as president of CBS News for nearly a decade. He is currently a visiting scholar at the MIT Media Labs Laboratory for Social Machines, which is working on artificial intelligence based tools to strengthen local journalism.
Local television news would seem to have little to worry about, compared to other forms of journalism. More Americans get their news from local TV than anywhere else, the genre is still profitable and it consistently emerges as the most trusted news source in national surveys. The see-it-for-yourself content can't be dismissed as "fake" and the reporters, whom you run into at the local supermarket, can't be demonized.
And yet local TV newsrooms — the smarter ones at least — are struggling to re-invent themselves for a new generation of news consumers. Millennials are migrating away from TV in general and from traditional news sources, including linear television newscasts. If local TV is to survive, let alone thrive, it will have to develop more innovative storytelling techniques, refresh outdated show formats and increase audience engagement.
That's why the Knight-Cronkite News Lab was created. Funded by the John S. and James L. Knight Foundation and based at the Walter Cronkite School of Journalism and Mass Communication at Arizona State University, the new Lab aims to inform, encourage, and perhaps even inspire news professionals with case studies and experiments designed to foster innovation.
I joined the Lab after a long career in local and network broadcast news, because I believe that local news is vital to our democracy and can not only find new audiences, but help lead a restoration of trust in mainstream media and civic engagement— a trust built on reliable and relevant reporting and compelling storytelling. My job is to edit our digital innovation hub, filled with a growing collection of case studies on both the broadcast and digital frontiers, as well as from outside the industry.
"…

we are eager not just for feedback, but examples we can explore."
My brilliant new colleague Frank Mungeam, who most recently served as VP for digital audience engagement at TEGNA, is what I call our "mad scientist." He conducts bold experiments with the stellar students, staff and state-of-the-art resources at the Walter Cronkite School of Journalism. He's open to station suggestions, so send your wildest ideas his way.
The wonderfully talented duo of digital producer Alicia Barrón and research associate Sarah Farrell round out our team. Actually, everyone reading this blog rounds out our team, because we are eager not just for feedback, but examples we can explore.
This effort is not aimed at academics or the general public, although, of course, their curiosity is welcome. It's for broadcast and digital journalists who want to know what their colleagues are doing to meet the daunting, but fascinating challenges of a new media age.
Please check us out at www.cronkitenewslab.com, and be sure to subscribe to our email news alerts while you're there. See you at the Lab!