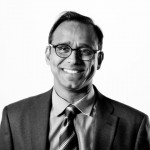 Prabu David is Dean of College of Communication Arts and Sciences at Michigan State University and oversees the PBS station WKAR, which was recently granted an experimental license to broadcast in ATSC 3. In this guest blog post, Prabu explains the exciting work they are doing to tap the potential of the Next Generation TV system.
As a PBS station, education and access are integral to WKAR's mission. Located on the Michigan State University campus, home to leading research programs in education and communication, we were  naturally intrigued by the possibilities of applying ATSC 3.0 broadcast technology for research and educational outcomes.
To examine its potential, we applied for an experimental license, which was granted by the FCC in June 2018. Shortly after the approval, FCC Commissioner Michael O'Rielly visited our campus to inaugurate our NextGen Media Innovation Lab. Since then, our engineering team, headed by Gary Blievernicht, has built the infrastructure to broadcast in ATSC 3.0 using our backup transmitter and antenna on temporarily vacant spectrum in our market.
Now that we are on the air, our next objective is to develop the tools needed to tap the interactive potential of NextGen TV, and we are collaborating with Mark Corl, from Triveni Digital, who is leading the creation of a software development kit.
Distributing Rich Media Content to Households Without Internet Access
Our first application will focus on providing rich media access to households without an internet connection. Even today, some urban and rural households are without internet, because of the costs or the challenges of broadband access. Our goal is to serve this population.
Using Curious Crew, a children's science program produced by WKAR, we will offer supplemental content to families without a broadband connection. Currently, we offer Curiosity Guides, tutorials and other content through the WKAR website. With ATSC 3.0, we can circumvent this limitation by bundling supplemental content via the broadcast.
Imagine the benefits of creating a personalized website on the receiver for each member of your over-the-air viewing audience.
Bundling multiplatform content already produced for the website is low-hanging fruit that will enrich the user experience. However, the task of adding compelling supplemental content to NextGen broadcasts will require new thinking about production workflows and content design, which we will examine in the lab.
Imagine the benefits of creating a personalized website on the receiver for each member of your over-the-air viewing audience. This site can be updated periodically and households without internet can access content through a gateway device on which content is pre-positioned.
Pre-positioned content also offers peace of mind to families with children. By limiting the content to a local copy of a PBS Kids site, parents can limit what their children can access on the internet.
With a rich library of pre-positioned content, various opportunities for content tailoring and targeted advertising become available. Triggers embedded in the application layer of the program will search the receiver for swappable pre-positioned content. If such content is not available, the viewer will receive the standard broadcast.
For Curious Crew, the broadcast application will prompt parents to provide the age of the child, which will enable content tailoring.  Further, Curious Crew holds many outreach events in the community to spark engagement. The standard program may offer a generic interstitial that promotes community events in the viewing area, whereas the experimental broadcast may provide interstitials geotagged to a specific area, perhaps by zip code.
Exciting possibilities for households with internet
Our second use case focuses on households with Internet and capitalizes on the interactive features of ATSC 3.0. An internet connection not only ensures a live return channel from the receiver to the broadcaster, but also opens up content on the internet that can be pre-positioned or inserted in real time.
Instead of relying only on the over-the-air broadcast for pre-positioning content, NextGen TV broadcasters can choose between content delivery via the internet or broadcast, based on the economics and bandwidth demands.
The magic lies in the interactive protocols of NextGen TV that are placed in an application layer that is encoded as part of the broadcast with popular web components, such as HTML, CSS and Javascript that can be rendered on browsers.
When the broadcast application is decoded at the receiver, it triggers commands to fetch pre-positioned content or content from the Internet. For example, families with gifted or special needs children will appreciate special segments that are seamlessly interwoven into the programming. If the application has data about such needs, it will fetch and stitch tailored content to address these needs.
This seamless combination of broadcasting and broadband offers the efficiencies of one-to-many distribution of data-heavy content like 4K video, and at the same time preserves the user experience through strategic use of the internet.
Engaging companion devices
Given the proficiency of ATSC 3.0 in serving content to mobile devices, broadcast applications can actively engage companion devices, such as smart phones, tablets or IoTs. A key research effort in our lab is to study optimal design of programming for companion devices.
With Curious Crew, we plan to experiment with supplemental content for the companion screen that will serve as a parent's guide or offer learning reinforcement in the form of interactive games. We have already distributed PBS Playtime Pads to kindergarteners in the Lansing School District, which will serve as a platform to test the companion screen application.
Although the software tools are within reach to fetch and stitch content from the internet, digital rights management is a complex challenge that is being addressed by the Pearl TV group in the Phoenix Model Market.
Other Possibilities
The "killer app" for ATSC 3.0 will be one that takes advantage of a one-to-many data pipe that can scale to any audience size and requires only a thin return channel for interaction from viewers. The Super Bowl, NCAA basketball, Olympics and other major sporting events are well-suited for this delivery model. Likewise, gaming, eSports and VR games can use a combination of over-the-air distribution of large files that can be stored locally, together with a thin return channel over the internet to maintain interactivity.
Emergency communication will benefit significantly with ATSC 3.0
The data pipe in ATSC 3.0 is also ideal for one-to-many distribution of firmware or software updates to autonomous vehicles, mobile devices and IoTs in smart homes and the built environment. Recently, Pearl TV announced a collaboration with Avis to explore in-car entertainment for NextGen TV. These possibilities of ATSC 3.0 fit seamlessly with MSU's Mobility initiative.
Emergency communication will benefit significantly with ATSC 3.0, offering rich content in real time, such as maps and evacuation routes that can be geotagged for smart messaging. When the mobile phone infrastructure is crippled or overloaded during an emergency, ATSC 3.0 offers a robust alternative for communication with large audiences as well as first responders.
Public television stations, such as UNC-TV, are actively exploring such options, and a number of stations have joined the AWARN alliance to realize the full potential of the new standard for emergency communication, which is a natural fit for public media stations and our lab is committed to researching these opportunities.
At the NextGen Media Innovation Lab at WKAR, our goal is to examine the possibilities of NextGen TV in conjunction with other public broadcasting stations and to collaborate with PBS, CPB and APTS to provide training and thought leadership. We are also collaborating with other public television stations through an alliance with PMVG. It is only through such alliances that small stations, like WKAR, can stay abreast of the emerging technology.
With 5G on the horizon, we are in for another warp speed acceleration  and NextGen TV will be part of this new digital ecosystem.  WKAR and MSU are committed to developing NextGen applications in this new environment that are central to the core values of noncommercial television licensees.